Wtf, I thought I had seen all photobucket's f*ckups, and now this again...
Guess I'll redo the posts missing photos then. Also fixing some typo's, like how the Marine corps loadout with M87 DPM said it was from 1978...
First all the KM loadous, including an old one I hadn't posted.
Dutch Marine Corps 1960's, New Guinea.
M60 HBT uniform (USMC P44 cut)
HBT cap (similar to USMC cap)
BAR belt with suspenders (many argue these are Belgian, but I have some proof that seems to show these belts in very limited use with Dutch marines)
US M42 first aid kit pouch
Dutch canteen cover with US canteen
US style leggings
US 50's type boots
Not shown but present in my collection and also usable for this loadout.
US M36 belt
2 Dutch made M1 carbine magazine pouches.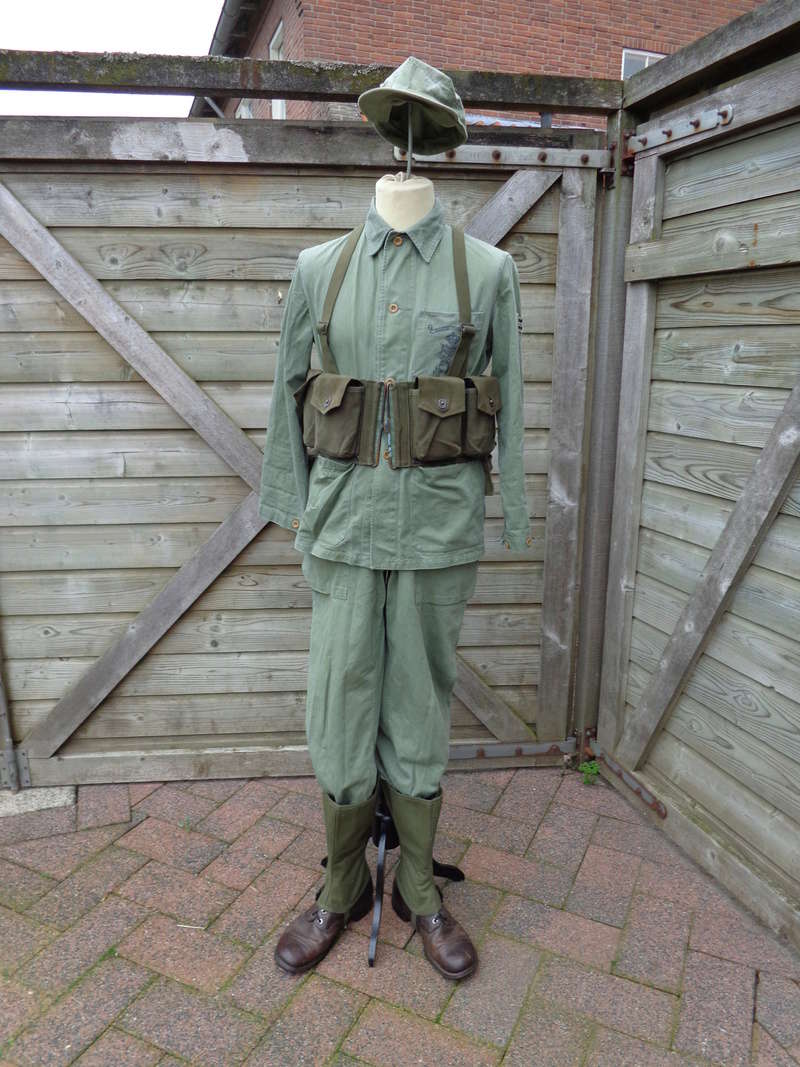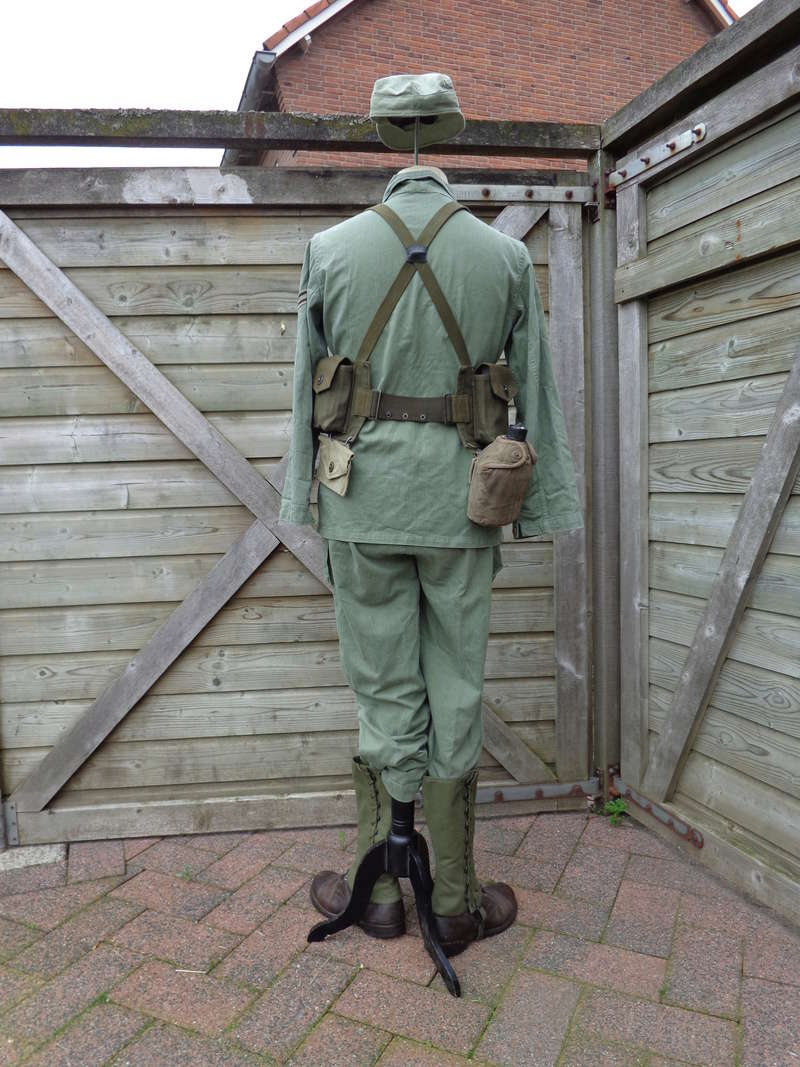 Dutch Marine Corps uniform as used from 1974 - early 80's
M74 summer uniform (consisting of khaki KM shirt, KL M58 pants, KL trouserbelt)
QPO patch
Corporal rank chevrons
Early type Marine Corps beret
Dutchmade US M36 style green pistolbelt
Dutchmade USMC p41 style suspenders
2 UZI magazine pouches (1 regular type and 1 center seam type)
Dutchmade US M42 style green bandage pouch
Plastic canteen in M52 pouch
US M1910 pick mattock in Dutchmade carrier
Dutchmade USMC p41 style backpack
Black M66 boots
Dutch Marine Corps, 1987 - early 90's
M87 DPM summer uniform
M87 windproof smock
2 Marine 1st class rankslides
M87 DPM cap
Marine Corps beret
Dutchmade US M36 style green pistolbelt
Suspenders (with an added strap on the right shoulder, and an elastic on the other)
Dutchmade US M42 style green bandage pouch with bandage
Plastic canteen in early rubberized M52 pouch
Dutchmade US style triple grenade pouch
FN FAL type C bayonet
C3 gasmask in plasticized bag
Folding shovel in carrier
Kidney pouches
Poncho carrier with nylon poncho
2 Packstraps as compression straps
Backpack
Black M66 boots
Dutch Marine Corps, UNTAC 1992 - 1993 in Cambodia:
US Woodland summer uniform with green shoulderloops
UN Netherlands arm patch
Korps Mariniers shoulder patch
2 Sergeant rankslides
Green armlet with Dutch flag and UN round patch
Blue UN cap with late style patch
RBR "305" body armor in DPM camo, this type was just issued for a short while
US LC-2 pistolbelt
LC-2 suspenders
Dutchmade US M42 style green bandage pouch with bandage
Plastic canteen in Marine Corps specific nylon pouch
Plastic canteen in M52 pouch
2 Nylon FN FAL-O triple magazine pouches
Black M66 boots
In the background and in hands:
British green PLCE gasmaskbag (not worn in Cambodia but issue item, they were carried in Iraq a year prior)
Blue UN beret
2 Nylon FN-FAL double magazine pouches
Late type pistolholster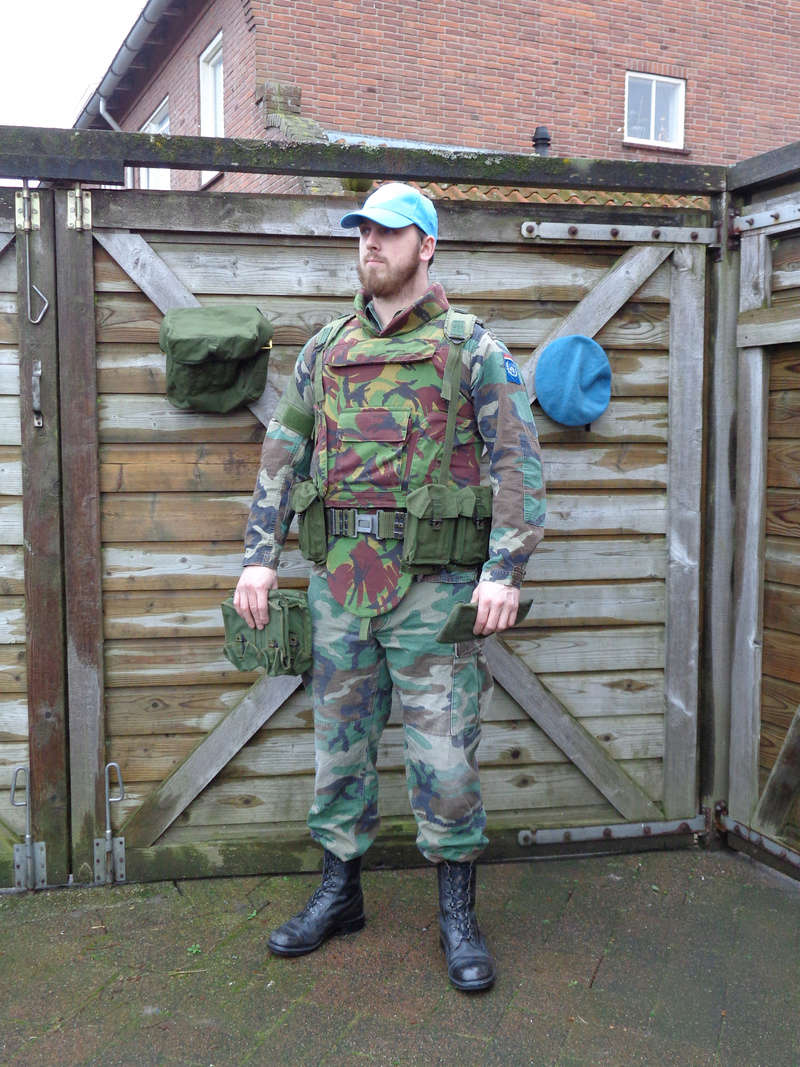 Dutch Marine Corps, Afghanistan, mid-00's
3-Color Desert camo BDU uniform variation
Schuberth 826 kevlar helmet
3-Color Desert helmet cover
Bolle goggles
DPM medic ops-vest reconfigured for use with FN Mag magazines
Late 90's Body armor
ISAF patch
Karabiner hook
Tropical boots