Post 'em if you got 'em
Here are mine.
First up is first production digital, 2005/2006.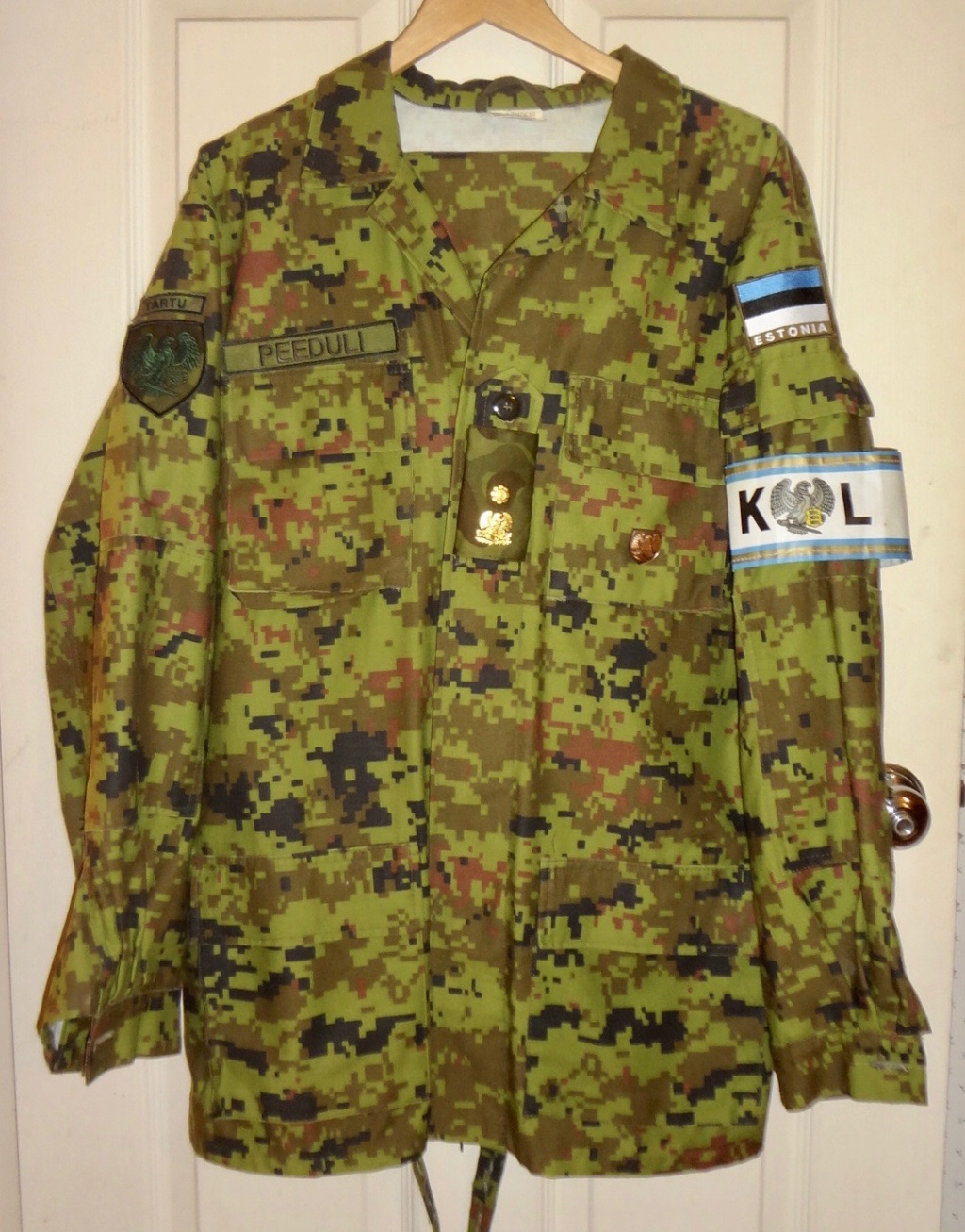 These uniforms were initially intended for military use but quickly wound up in Defense League hands as the modernized uniform was introduced. Either the military was unhappy about the uniform or it was intended as an interim uniform to test the camo pattern while the modernized cut was being developed. The former is backed up by info provided by an Estonian member of this Forum, the latter is just a theory I came up with to consider. Whatever the case is, the uniforms very quickly became "hand-me-downs" to the DL.
Interesting things to note on this uniform are the old badging from TTsKO uniforms. Period photos show the two piece TTsKO right arm badges to be pretty commonly used. The metal rank on TTsKO backing is also correct for the period as they did, and still do I think, wear metal rank when they want to. This rank itself is specific to DL. The parade armband on the left sleeve is also correct and easily found in pictures from the 2006 timeframe. The DL pin backed badge on the left pocket is something that would be worn on duty or parade.
Up next is the very short lived 1998 produced highly synthetic material TTsKO uniform with button on right arm badge flap.
Like other official military uniforms, these quickly found their way into service of the DL. This one has an older style DL badge which was still in use (along with other variants) at the time. The uniform came to me with the outline of this badge and a hole in the left chest pocket for a screw back style DL pin, which I also put in place. Even though there is a center chest epaulette for rank, DL members tended to stick with shoulder rank with metal pieces. I have a picture of one guy with metal rank on his shoulders and a cloth rank on his chest. Regulations are merely suggestions for Estonians
Note there is no national badge on the right arm. At the time there was a lot of flux with the national badging. Different types, worn on different arms, or not worn at all. The national badging started to standardize in the early 2000s and more-or-less became standard with the digital camo uniforms. Though if you look closely, there's variation there too!
Steve