While on my neverending hunt for addition information regarding Japanese patterns, I stumbled onto a small goldmine of Japanese forum and blogposts of collections and information regarding some of the patterns the JSDF has trialed and considered since the 1960's, as well as some of the developmental history of some of the patterns they did.
Please note this is not meant to be conveyed as my own research, only my attempt to translate and pass along the information these other Japanese collectors have discovered for the English speaking collector crowd. Speculation is aplenty for these items as photographs and surviving historical examples are near non-existant so a large amount of guesswork and conclusions have to be drawn to fill some gaps. I will also add some of my own speculation where applicable, and I will update this thread as I find more information, and obviously anyone else's info, speculation, and input is welcome here as well.
I will be updating the article (https://www.kommandoblog.com/2019/02/14/history-of-jsdf-camo-patterns/) that myself and fellow user Zedthefed created awhile back as it was already outdated just a few months after posting with some of this information as well, but this post on this forum will be my primary deposit for information that I find.
I suppose I will start as chronologically as I can, I will also add links to to the posts where I found this information as I can, although some have been difficult to re-find and will probably need to be added in later posts as I find them.
Firstly, we will start with what *appears* to be the oldest example. This information comes from https://bassner.militaryblog.jp/d2012-10.html
This is a strange hooded, zip front, four snap pocket, elastic cuffed, and drawstring hem and waist cut jacket in a pattern that resembles German Sumpftarn/Sumpfmuster. The text mentions it being a one of a kind, and there's no other references to it I can find. Appears to be from the early 60's, possibly even 50's. Due to the small scale and poorer quality of this single photo and existing example it's hard to make out more exact details. There's no info on testing dates, range/extent of use of testing, or mentions of markings like tags or stamps. As it stands it is a "potential experimental JSDF pattern" that I will call Japanese Sumpftarn.
Secondly is this intriguing photograph from what seems to be the mid 60's of member wearing French lizard. Only this photo of this occurrence exists, and there' no known examples of any "Japanese Lizard" in collectors hands at this time. I can't read the armband he wears, but he wears a Fang Type 65 cap, placing it at 1965 at the earliest possible date. The uniform also appears to be an original French uniform rather than a Japanese made one, as it is nothing like any JSDF uniforms of that era that I've seen. He appears to have added a button to the shoulder to secure his armband. As for speculation, there's multiple possibilities as to the origins. He could be a JSDF OPFOR/Aggressor Forces member wearing it as an early OPFOR uniform, he could be an observer in France or during a French visit, or they could have purchased or came across it and trialed it as a new potential pattern for their forces. Any another ideas or speculation are greatly welcome of course.
This particular photo came from a Twitter post but has been passed around several Japanese collector forums and blogs, although this one was the best quality I could find.
The captions and conversation (not on the actual photo) said,
"Image (of course picked up) that came out with SDF Tiger pattern, if you think something, the back view of famous M (not seen recently) of Nakata Shoten (under the guard) who came to visit."
"I heard that in the old days, the 14th Anne of the Kanazawa Regiment came to the French Lizard outerwear and went to practice in the old camouflage era. It seems to have been written in a magazine."
"A camouflage of the early experiments, very mysterious, has only flown out of this photo."
You may have read and gotten excited at the previous mention of "SDF Tiger pattern". This is easily the most incredible information I've come across as far as JSDF patterns go. In the early 1960's, Japan trialed a few different tiger stripe uniforms to use for their armed forces. There were several different types in different cuts, however most appear to have been, or were close to, the regular Type 65 uniform cut. Almost all surviving examples are heavily faded and worn so the original colors are hard to determine.
Now, I'm no expert in tiger stripe patterns or families, so I have no idea if these patterns are the Japanese' original designs or reusing existing patterns but in new colorations and cuts dedicated to the JSDF. Apparently one of them is the same as one of the tiger patterns that Taiwan was utilizing at the time.
Since Japan was making and tailoring tiger stripe uniforms for US servicemen in Vietnam at that era, as well as tiger stripe being at it's height in popularity at the time, it makes perfect sense that Japan also considered it for themselves. As to how, when, and why it was not accepted is unknown though. Whether they found it ineffective for their Hokkaido-defense strategy, didn't want to be mistaken for US, Vietnamese, or Taiwanese troops, or they simply thought Fang or other patterns would suit them better, they apparently ended their trials for it sometime in the mid to late 60's, after Fang had been adopted.
Most annoyingly, many posts mention existing photographs of JSDF members wearing these trial tiger stripe uniforms but none have been posted or shared that I can find. I am currently fervorusly searching for them and will share them once they are found.

Here's the first photos and example I came across of it, from @yamasannsou (https://twitter.com/yamasannsou/status/630371068008501249).
Definite evidence of insignia having been attached, and it's in the normal Type 65 cut.
The caption for it was "Self-Defense Force tiger camouflage clothing, the back side is khaki, made in 1965 with 50% cotton 50% vinylon fabric each time, the shape is the same as the old OD work clothes."
The date I found interesting as that was the year Fang was allegedly adopted. Additionally, it appears to have some loops sewn onto the trousers legs, there are or were possibly buttons on them to slim down the legs.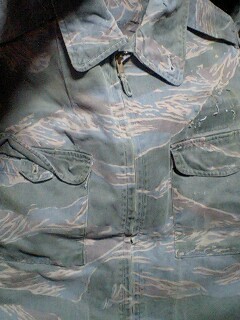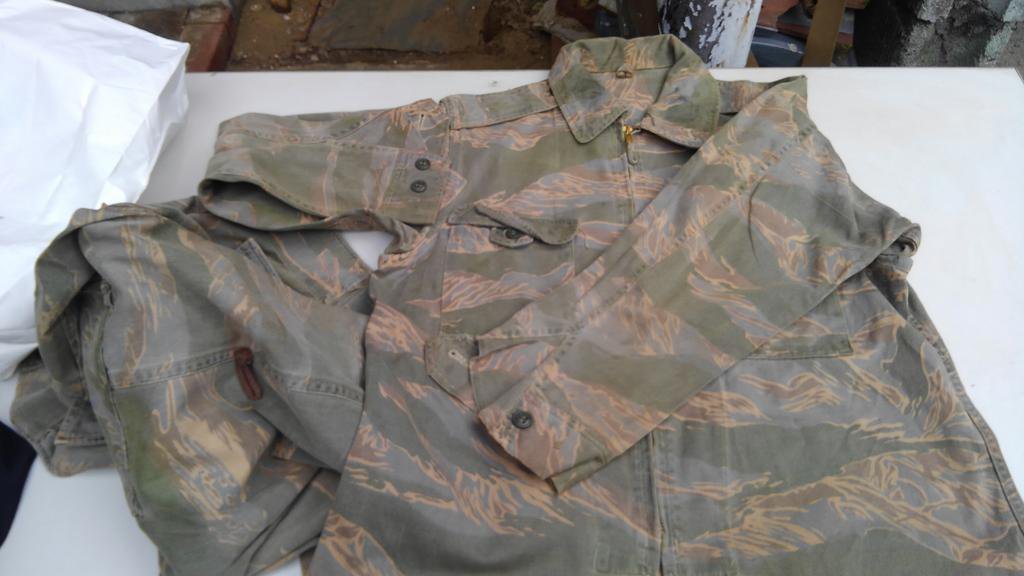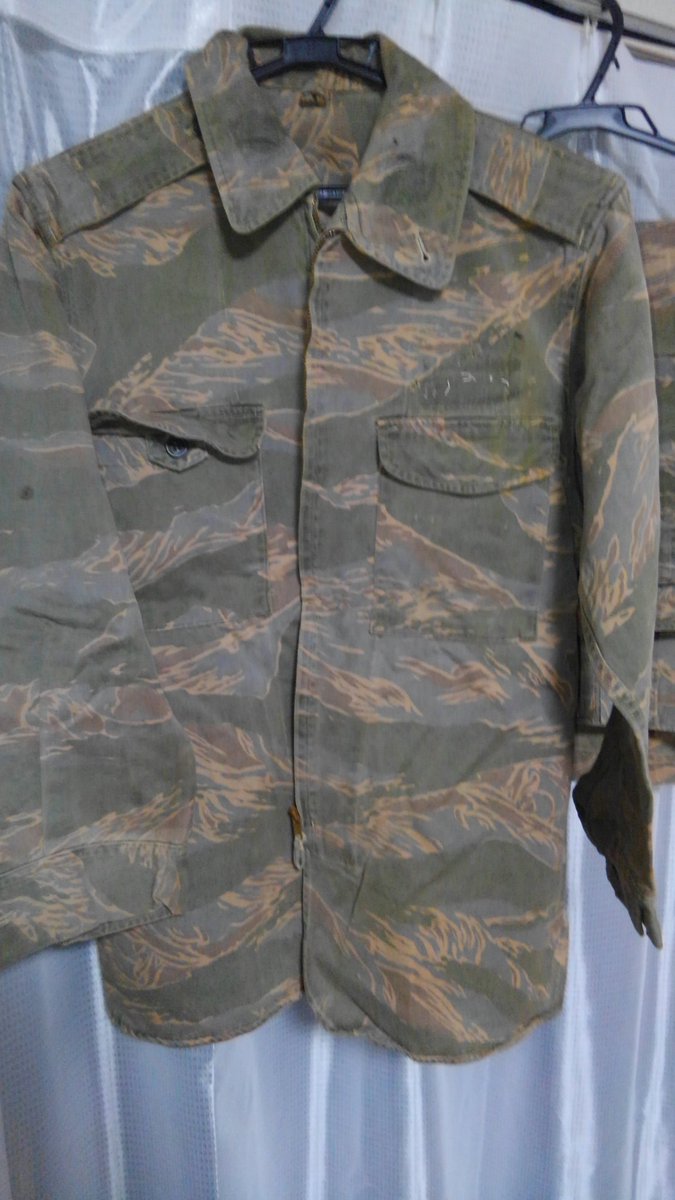 Next is this example in a different cut, also with government tags. The pattern also appears to be a different type and coloration although I don't know for sure as I'm bad at telling tiger patterns apart.
It definietely looks to be a Vietnamese type though. It is very close a a Type 65 type cut, but with some differences including patch-type elbow reinforcements, the pocket flaps being exposed-snap closed with sharper points, no button cuffs, zip cuffs/forearms, and a straight box hem at the front rather than the rounded ones of the Type 65. The tag retains the Sakura Q marking but no date.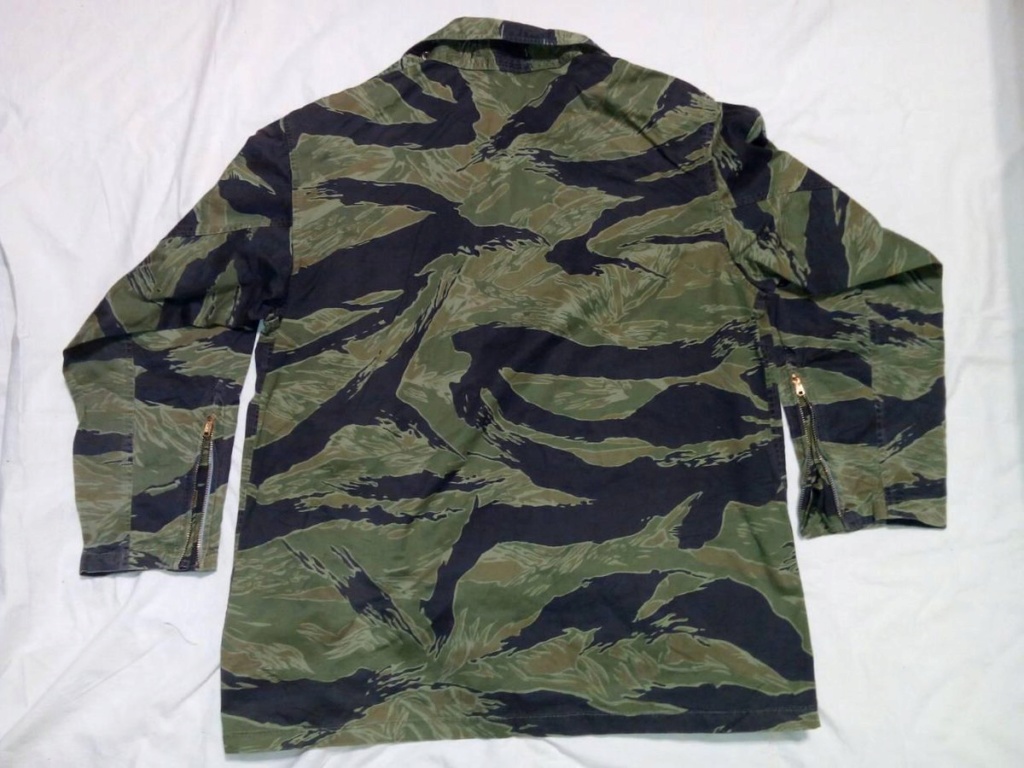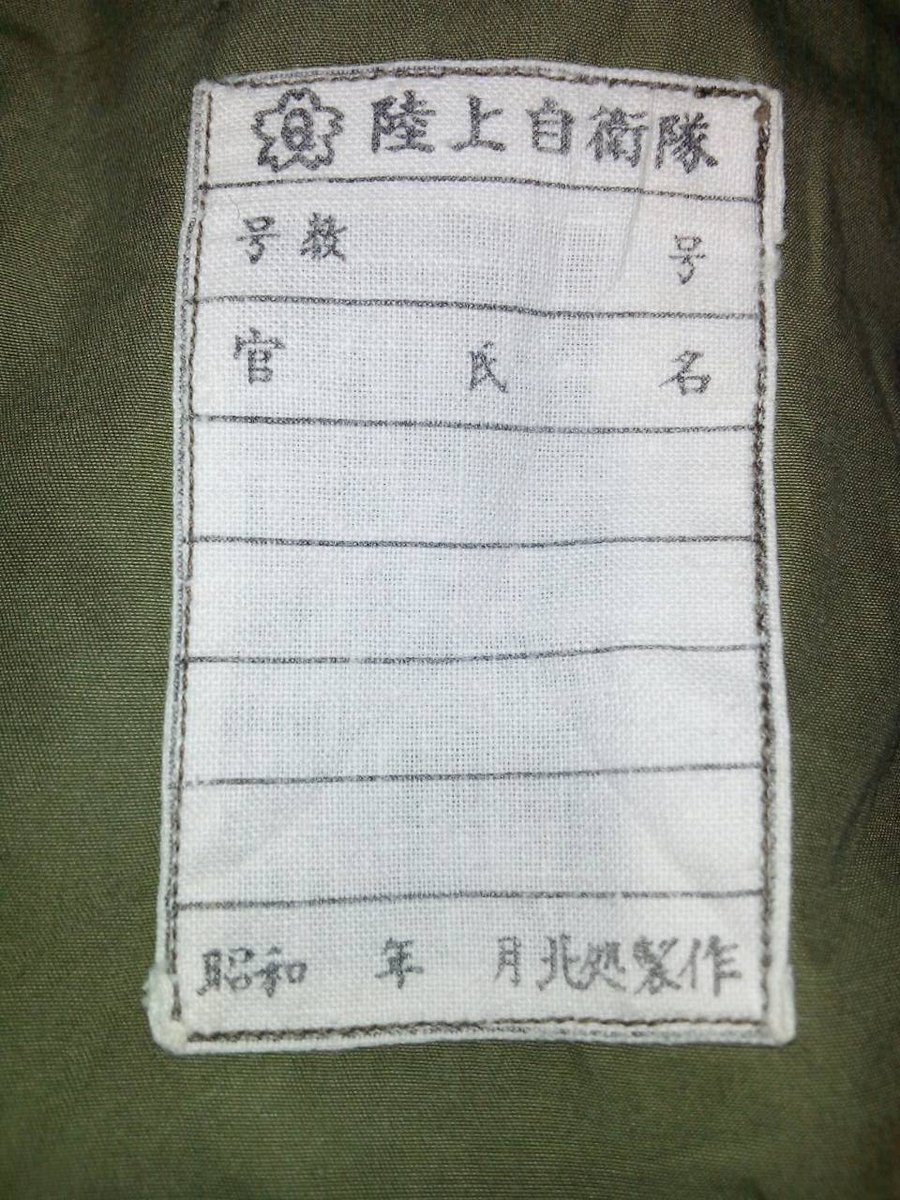 Here in a display of JSDF uniforms, you can see a trousers belt in the pattern.
I translated one Twitter post's conversation about it, here's what they said:
One Japanese collector/blogger has been working on researching and reproducing these Japanese tiger stripe uniforms. You can find his personal blog page and Twitter profile here documenting his progress and research: https://lalaselfmadeatelier.militaryblog.jp/?tab=list
https://twitter.com/Lala_sub_depot
According to him and some other collectors, there were a few different types of uniform and tiger pattern that were trialed, which he named after the manufacturer's on the tags of surviving examples.
Here's what he said, found here: https://lalaselfmadeatelier.militaryblog.jp/e936731.html

"It's "four pockets" that I'm talking about SDF Tiger. Self-Defense Forces comparatively dangerous ww in the obsession to Tiger

Well, this time we will summarize briefly the consideration of my personal for the Self-Defense Forces Tiger. First of all, if you write it down, it's just an individual consideration and not 100% correct. Think about half of the story, based on stories you hear from people, remaining photos, and other clothes that existed at the same time.

Recently, the presence of the SDF Tiger has been recognized for some reason, and it seems that some people are attracting attention. I have heard several stories about wanting to make a replica, and I am thrilled that it has become quite interesting. Although replica stories have always existed, they are usually packed with dough. I want a perfect replica, except for the material of the fabric ...

There are several types of SDF tigers ... There are many things that are not well understood, but let's organize it a little. Depending on the supplier and the place of production, you can call it "XX Tiger camouflage clothes", but it seems to be long, so give it a name. Please note that it is not an official name but an nickname

The SDF tiger that is often mentioned is a tiger camouflage clothing in the form of OD work clothes that was used in the Eastern area. The manufacturer of this camouflage garment is known to be Marubeni from existing photographs. Therefore, we will call it "Marubeni Tiger".
Next, the tiger camouflage uniform worn by the members in the parade photo of the Northern District. This is considered to be the same as the Tiger camouflage clothing that Taiwan has because of its pocket and sleeve characteristics. This camouflage outfit has "Kitadokoro Production" on the tag, so let's call it "Kitadokoro Tiger".
And "Matsudo Tiger" I often hear. It is a tiger camouflage dress at Matsudo Supply Center, but details will be given later. Let's supplement these famous places.

First, regarding Marubeni Tiger, it was said that it had been used in the Eastern Area area as described above. Because it is shaped like OD work clothes, this is what many people think of as the SDF Tiger. Precisely, it is thought that the work is made by cutting the work clothes (modified) from the silhouette rather than the base of what is commonly called OD work clothes. It would be a reasonable decision considering the time and characteristics of Marubeni Tiger.
If you are going to make a replica of Marubeni Tiger, you will have to base it on work clothes (improved), so the hurdle will be quite high.

Next, the North Tiger. It is a camouflage clothing that has the characteristics of the early air clothes such as sewing of shoulder boards and elbow pads. However, it seems that there was an OD work uniform that was close to this (← I knew it today). Like Marubeni Tiger, it seems that there was a base work clothes, but it is ambiguous because there is too little information on the prototype. There is a product made in the north, and there is a possibility that it is an original in the north supply (or more likely).

Matsudo Tiger is a camouflage uniform that was in the Matsudo Supply Center. Certainly, at an event someday, I heard that Matsudo had tiger camouflage clothes. However, the shape is unknown and I have never seen any photos. In terms of area, it is covered with the Marubeni Tiger trial area, and it may be the same. On the other hand, the possibility of being an original (supplement shop special) of Matsudo Supply Shop cannot be thrown away. In fact, the Northern Supply Shop made tiger camouflage clothes that are different from Marubeni Tiger, and Matsudo makes custom-sized work clothes. There may also be a possibility of making it independently at Matsudo.

Lastly, there was a tiger camouflage outfit for the old work clothes. It is a story that the shape was the old work clothes (a guy like a 43 jacket), but considering the time when research on tiger camouflage clothes began, there is a possibility that it existed. I don't know which type of old work clothes, but there

are several types and there may be some mess. It may not be necessary to determine exactly, but it is like this if it is divided. Anyway, please do your best if you are trying to make a replica.
Depending on how it was reproduced, there was a little interest ... (laughs)
Last but not least, I would like to thank everyone who has read so far. See you soon."
This has been the most interesting find I've come across in quite awhile and I'm following it closely to try to find more examples and hopefully those damned photographs of it in use.
Continuing on, to supplement info I found and posted in my article, I appear to have been incorrect in my assumptions of the origins of Fang. From what I've found, it was adopted allegedly in 1965, about a whole decade earlier than I previously though, and went through several variations and colorations since its inception.
This information largely comes from Twitter user CONDUCTOR @yhashi6894229 and https://rekiji.militaryblog.jp/
This photograph I posted back in my other post but thought could use more attention. Although it appears to have been oddly exposed and/or damaged, you can clearly see at least three JSDF members wearing some allegedly experimental camouflage. The appearance of the pattern and colors of the photo remind me of the Yugoslavian mountain pattern, but there's no know info about it or surviving examples.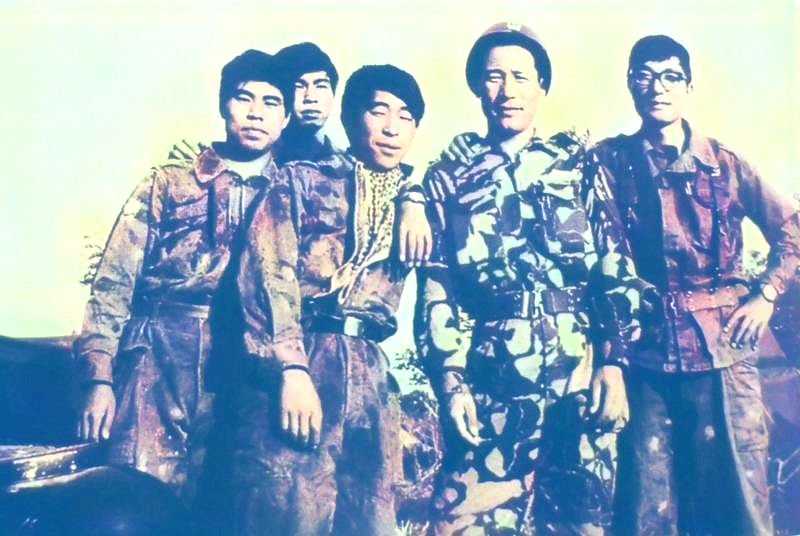 This strange Fang relative is from the collection of http://kimamanin2.livedoor.blog/archives/1694255.html. It is tagged as a PX purchase item but has a sakura zipper. No photos or other known examples.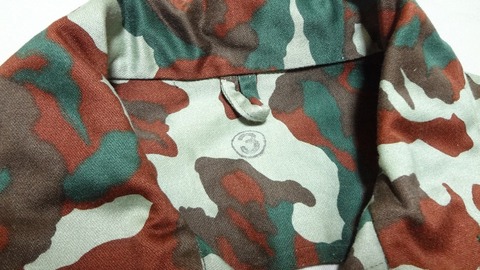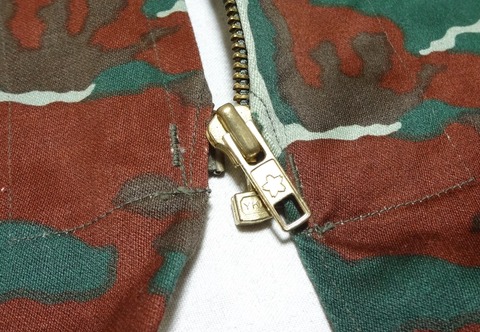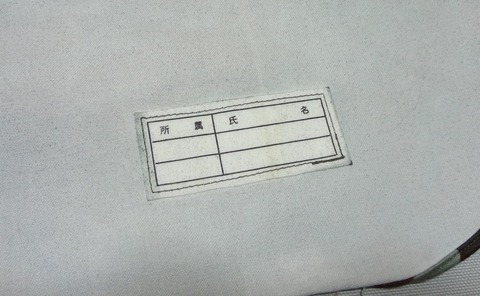 These winter trousers and some rucksacks are the only known items in this strange variant of Fang in a vertical orientation with shapes similar to those found on the early Nepalese fang patterns.
When and where they were used, how long they were used or tested is unknown. They may also be connected to Nepal, possibly an early export item for Nepal or influenced from the Nepalese variations for themselves. Cannot find photos of the rucksacks at the moment.
As found by https://rekiji.militaryblog.jp/, the earliest known example of Fang was made in 1968, and according to him was adopted in 1965. It went through several colorations and variations, but the three most notable variants are the earliest iteration that has significantly thinner stripes, gaps between the shapes, and darker colors, and interim ones with somewhat brighter colors and much thicker, overlapping shapes, and the later 70's-80's one which is more common that is much brighter and has a bit of balance between the overlap and thickness of the shapes between the first two iterations.
The first variation.
The apparent "second variation".
Noticeable differences between an early and late example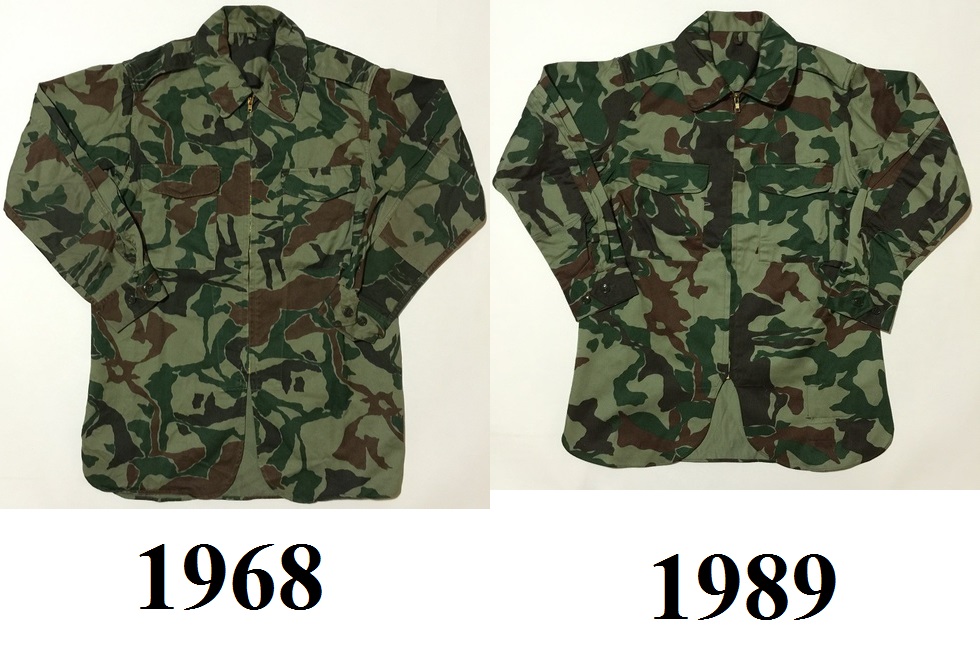 Earlier versions worn.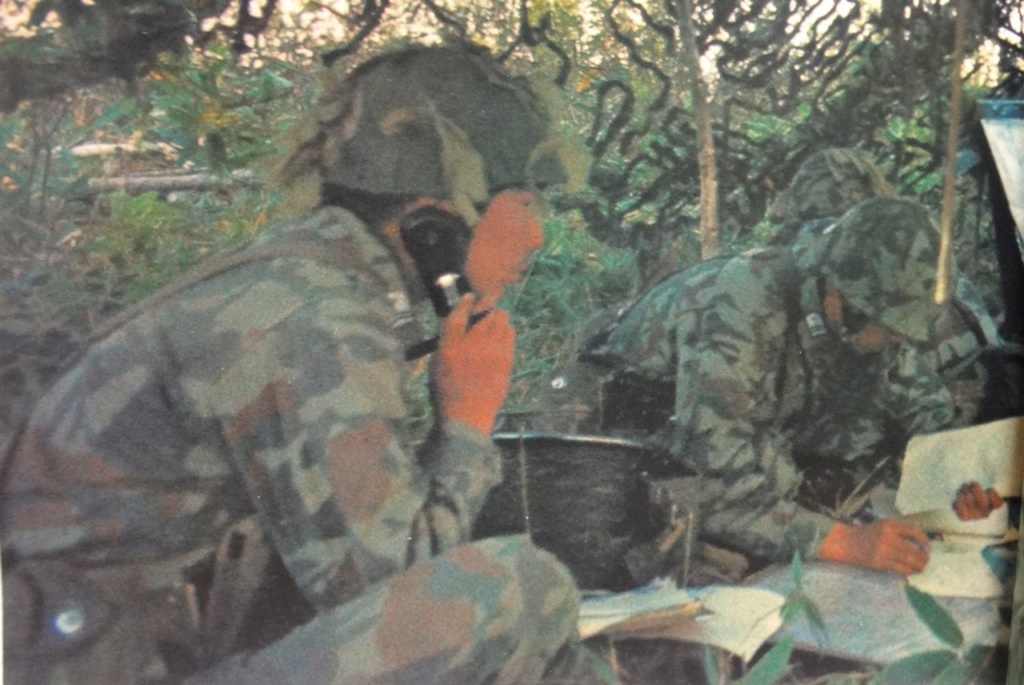 Not official/government issue, but at some point the JGSDF Airborne started making helmet covers and allegedly ascots/bandannas out of US parachute camouflage material as US soldiers did. Unknown when the practice stopped or started exactly but it can be seen worn in a video of the JGSDF 1st Airborne doing jump training in the 1970's. Apparently the practice eventually carried over to non-airborne combat personnel as well.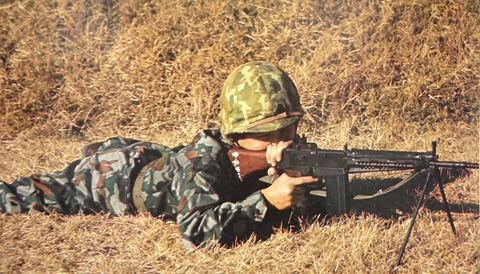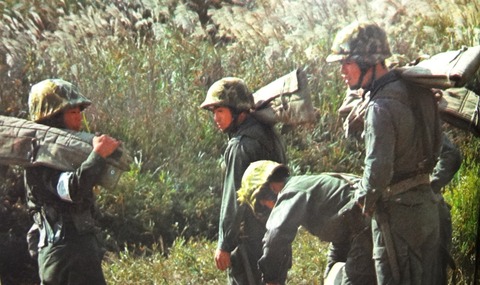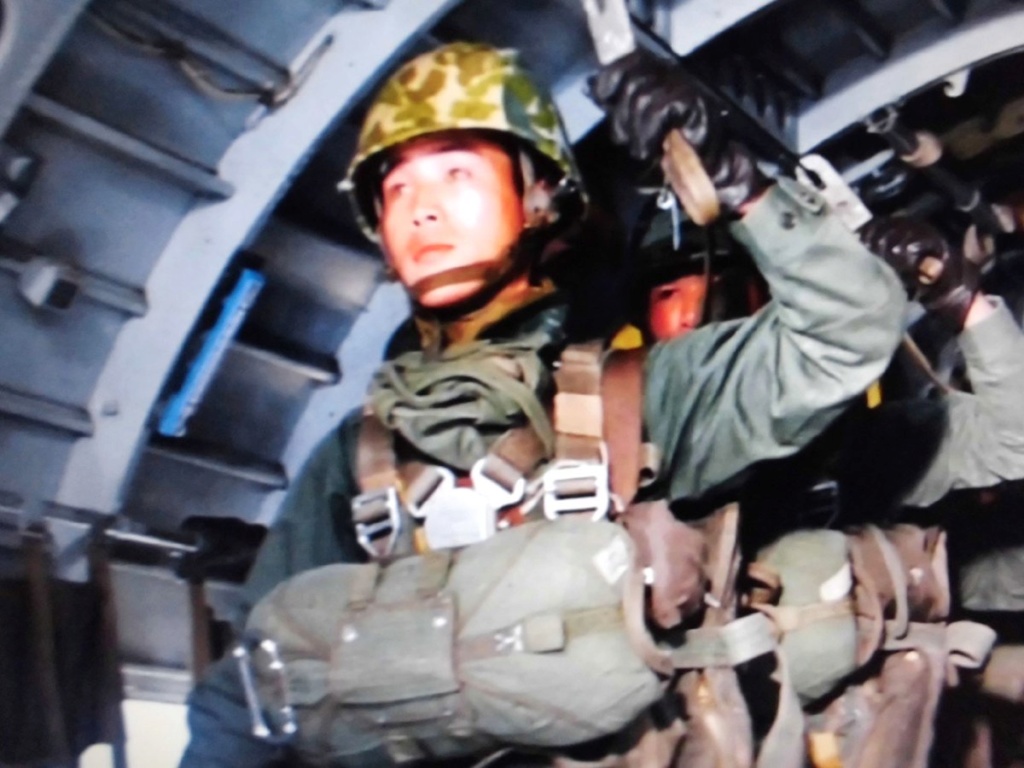 A much less common occurrence but still observed, some members wore US Mitchell camouflage helmet covers.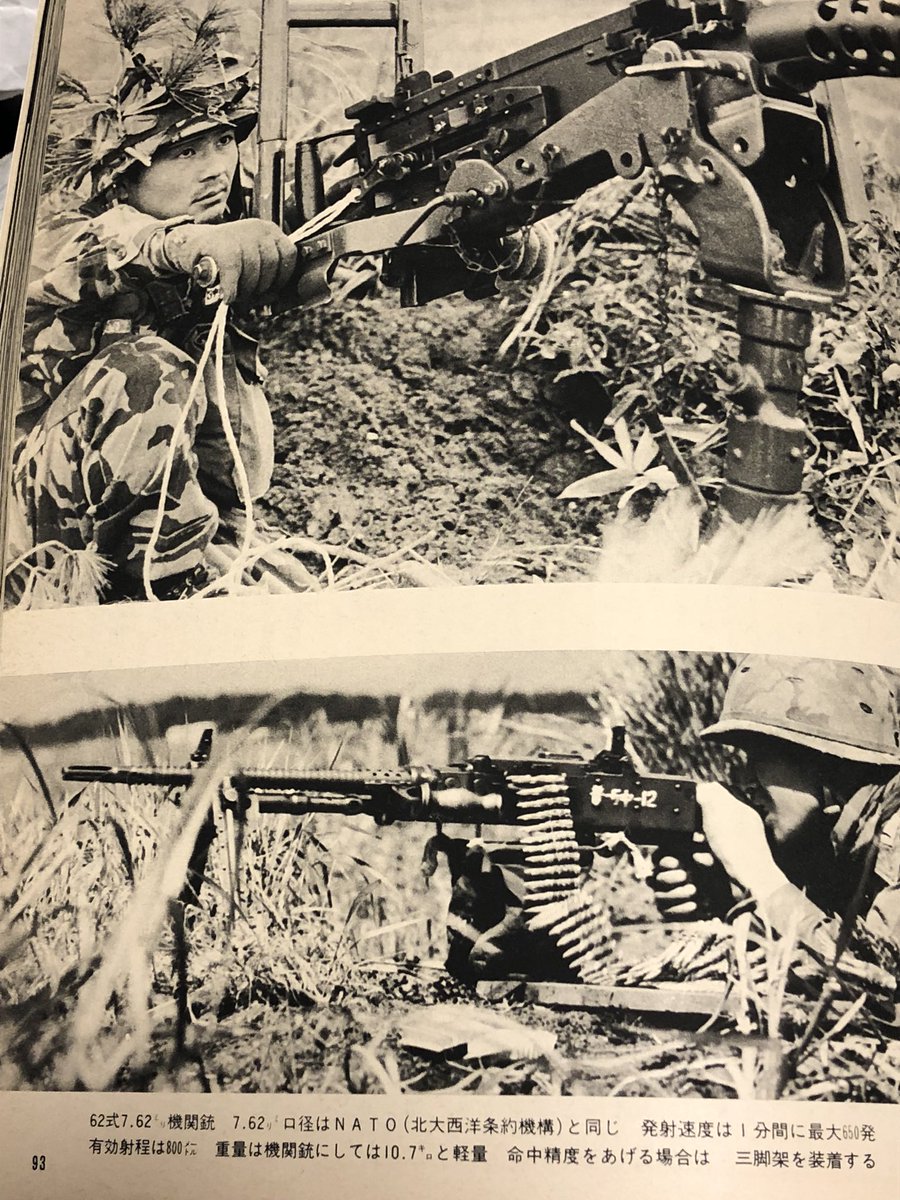 According to Rekiji, in 1989 along with the new Howa Type 89 rifle, new combat equipment, uniforms and gear were developed by the JGSDF Supply School in Matsudo, Chiba and tested by the 12th Brigade and 1st Airborne with this early iteration of the "Jieitai" fleck camouflage pattern. The pattern's colors are muted and changed due to the pouch material, and they are not big enough to get a good look at the pattern to see if there are any differences with the released version of Jieitai first issued in 1991-1992, but it is interesting to know that the Jieitai pattern was developed as early as 1989.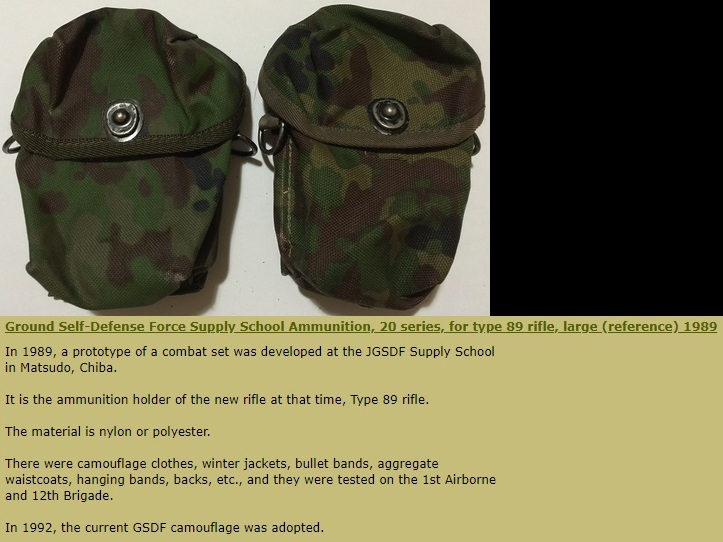 From Kamo's collection (http://www2.ttcn.ne.jp/camouflage/english.htm), he has two very interesting prototype shirts in Jieitai. Whether these are from the late 80's trials or different styles tested in the 90's is unknown, but they have noticeable different colors and details such as pocket closures, front closures, different insignia attachment points, and the "second series" appears to have even had two lower pockets that were removed as well.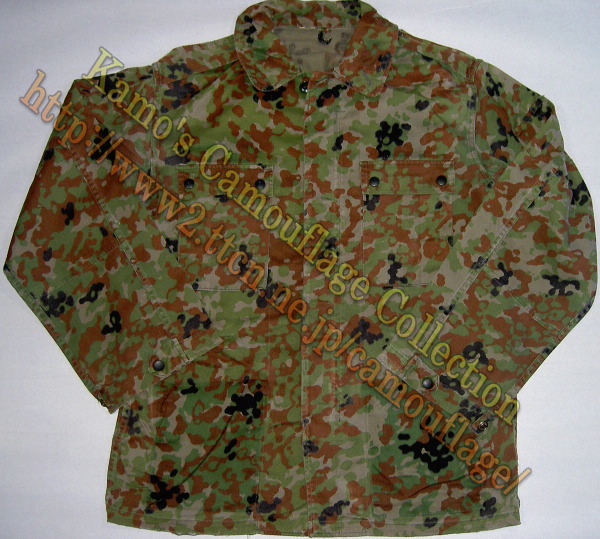 Rekiji also discovered that the unique 3 color desert pattern issued to JASDF personnel in Iraq also utilized the same shapes as Fang, possibly the same rollers. Interesting that since apparently 1965 even modern Japanese patterns have been using the same exact shapes.
Apparently from some sort of "Future Soldier Concept" demonstration in an unknown recent year, some models wearing uniquely cut MARPAT copy uniforms were seen. Whether this was ever seriously considered by the JSDF is unknown but wouldn't be surprising considering the exposure to it they get. The JSDF however seems intent on keeping their camouflage patterns their own unique design and not copying existing ones.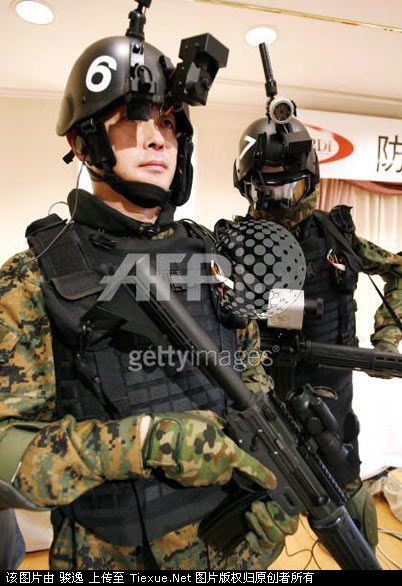 And last for now, from a recent exercise, this JGSDF special forces OPFOR member is wearing an urban tiger stripe pattern. Haven't been able to find any other photos of it being worn, and it's interesting to see as the JSDF Aggressor Forces have already had their own uniquely yellow colored Fang pattern for awhile now, so it's possible this was just a private purchase. It gained new significance to me though after discovering the existence of the Japanese tiger stripe that was trialed decades earlier.
That's all I got for now, again I will be updating this as I find new information and photos and please feel free to comment any thoughts, info, speculation, or ideas you may have as I'm only just now getting to dig into this stuff.
Thank's very much and enjoy!
-Nate