My Uncle George passed away a few months ago.  George was a prolific collector of various things, particularly if there was a familial connection or sentimental value connected.  For example, he stored furniture, fine china, and some surprisingly robust antique household items that have been in our family for close to a century, if not longer.  Getting directly to the RFI in the title, I intend to use the items pictured below as part of my militaria display for Veteran's Day at the local middle school.  I'd like to do it up right, so here's the question: what other items should I find to set up the fighting load/LBE of a Marine Platoon Commander in 1985?
Among the items in George's collections were these: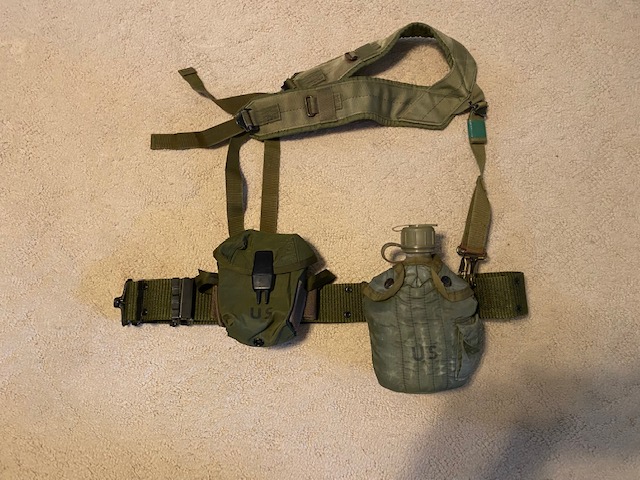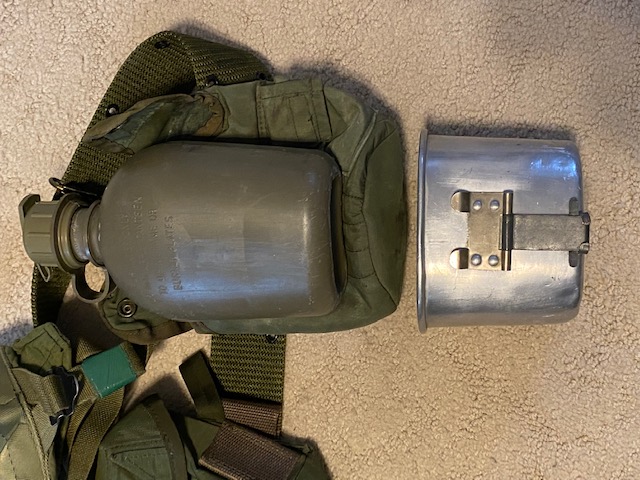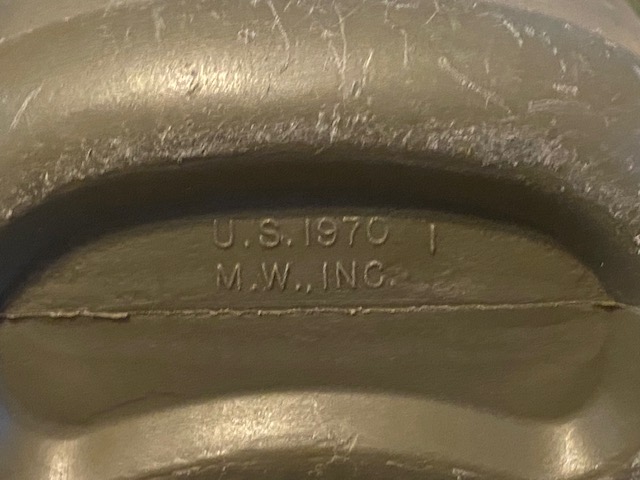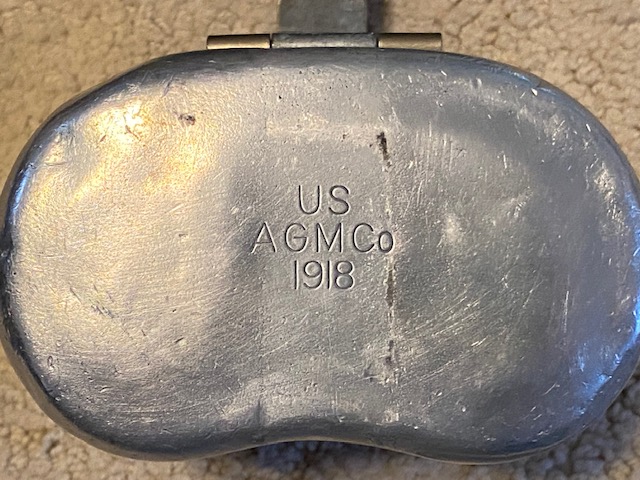 Pistol belt, suspenders, small arms ammunition case (shorter nylon version for 20 round M-16 magazines), canteen carrier, canteen (1970), and canteen cup (1918).  Given that I am a horrible person, I have been using the canteen cup for its intended purpose--morning coffee--since I acquired it a few weeks ago.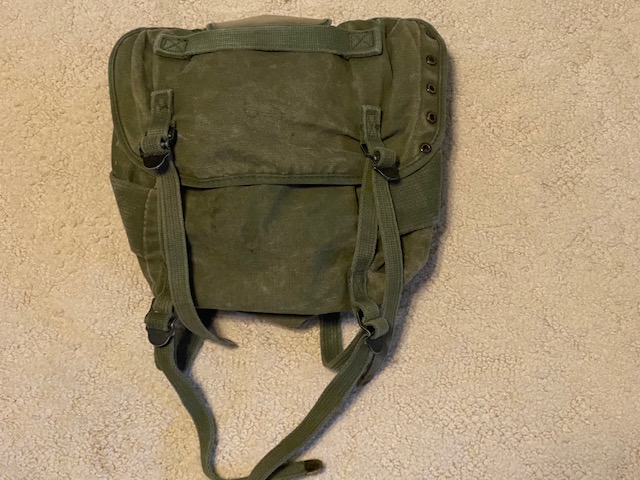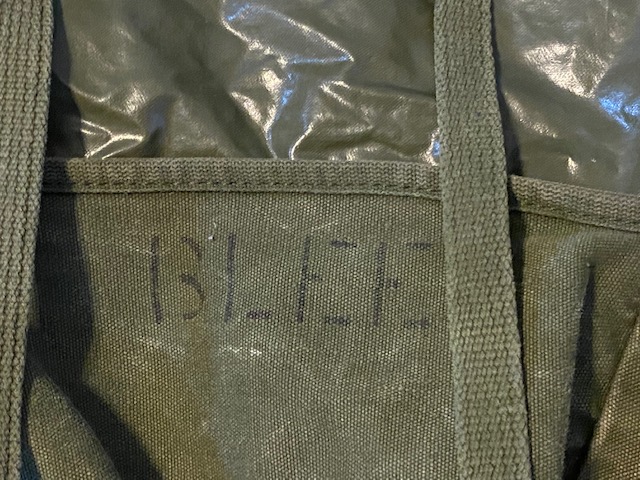 Field pack, training, more commonly referred to as a butt pack or butt ruck.  "BLEE" is stenciled on main body where it would be hidden under the flap when closed, and the waterproofing on the cover sleeve is in exceptional condition.  
There is also a GI foot locker with "BLEE" stenciled on top.  
All of these came from George's fraternity brother, 1LT John Robert Blee, USMC.  John was killed in a helicopter crash in October 1985.  I was seven years old when it happened, and I remember Uncle George--a giant to me then, now, and always--shrank in on himself, his world shaken hard.  He came back around several months later, himself again near Christmas, which he hosted for the family that year.  
Given the above items, and my knowledge of the backstory, I have a couple projects in mind.  
My youngest son will use the foot locker for its intended purpose- storage of clothing and equipment (he's a Boy Scout for now, and intends to earn a degree and seek a U.S. Army commission).  To keep John's memory alive, we're researching his life and military career, and will place a memorial page inside the lid of the locker.
A contemporary newspaper article, attribution at the end:
Camp Lejeune, NC Marine Helicopter Crash, Oct 1985
MARINE 'COPTER DOWN IN SEA.
DIVERS NEARBY -- TOO LATE TO SAVE 15 IN ATLANTIC.
Jacksonville, N.C. (AP) -- A team of divers hovering overhead was able to "immediately" reach a helicopter that crashed into the ocean after taking off from a ship, but 15 Marines aboard died in the corps' second-worst aircraft accident, officials say.
Four others were rescued Tuesday when their twin-rotor, Marine CH-46D "Sea Knight" helicopter with 19 people aboard, crashed and sank on takeoff from the USS Guadalcanal.
"This is the second-worst aircraft accident in Marine Corps history," said Gunnery Sgt. John Simmons. "The worst was a CH-53D crash in the Sea of Japan" in May, in which all 17 people aboard were killed.
The helicopter was participating in an exercise with the 26th Marine Amphibious Unit, he said. The CH-46 is the principal assault helicopter of the Marine Corps and also is used extensively by the Navy to carry cargo and passengers between ships and shore.
"It's a very safe aircraft for us. It's real good. It's been in the inventory since Vietnam," Simmons said, adding he had no details of the crash. "It left the ship flying over the water and crashed," he said.
Simmons said a search-and-rescue helicopter with divers aboard was in the air over the ship when the helicopter crashed early Tuesday, so divers were able to get to the wreckage "immediately."
Simmons said 12 of the casualties were Marine troops aboard the helicopter and three others were crew members.
Four Marines were pulled from the choppy waters around the Guadalcanal and one body was found. Navy and Marine divers searched for the 14 missing Marines, whose bodies were found Tuesday afternoon, Simmons said. The bodies were taken to the naval hospital at Camp Lejeune.
The helicopter wreckage would be removed from the ocean floor and taken to either New River Air Station or Cherry Point Marine Air Station for examination by the Marie Aircraft Mishap Board, he said. "They will dismantle it and look at it with a fine-tooth comb."
Early this morning, all the injured were in good condition at a medical dispensary aboard the Guadalcanal, said Sgt Pamela Vajner.
The passengers and crew are based at Camp Lejeune and its New River Air Station, said Staff Sgt. Terry Ruggles, also of the Camp Lejeune public affairs office.
The accident occurred not far from the Marine Corps' Onslow Beach, just east of Camps Geiger and Camp Lejeune, where Marines practice beach landings, but the Marines said the ship's exact location wasn't known.
LIST OF INJURED AND DEAD.
Camp Lejeune, N.C. (AP) -- Here is a list of the dead and injured from Tuesday's helicopter crash off the North Carolina coast, as provided by Sgt. Pamela Vajner of the Camp Lejeune Public Information Office. Ages were not available.
Dead:
Marine 1st Lt. JOHN R. BLEE, Durant, Iowa.
Marine Sgt. JOHN F. CARNEY, CREW CHIEF, Glendora, Calif.
Marine Pfc. CRAIG F. CARNLEY, Bay Minette, Ala.
Marine Lance Cpl. LARRY L. DAY, Peoria, Ill.
Marine Cpl. A. L. JONES, JR., Jamestown, R.I.
Marine Staff Sgt. DAVID JONES, Beaumont, Tex.
Marine Pvt. PURNELL JONES, Milwaukee, Wis.
Marine 2nd Lt. JOHN B. KARNER, Eagle, Wis.
Navy Lt. ROBERT L. LEDBETTER, chaplain of the 26 Marine Amphibious Unit, Norfolk, Va.
Marine Cpl. CLIFF MOYER, FIRST MECHANIC, Cement City, Mo.
Marine Cpl. GREG C. REBER, Auburn, Pa.
Marine Pfc. MICHAEL J. STUHLSATZ, Millstadt, Illinois.
Marine First Lt. JOHN G. WASKO, PILOT, San Diego, Calif.
Marine Sgt. DIRK A. WITCHER, BelAir, Texas.
Marine Pvt. JOHNNIE B. YOUNG, Cordele, Okla.
Injured:
Marine Sgt. W. J. BARBER, no hometown given, good condition.
Marine Lance Cpl. MICHAEL A. GATTON, Columbus, Ohio, good condition.
Marine Cpl. DANIEL E. NAPLES, Parma, Ohio, good condition.
Marine Capt. KEVIN SPILLER, COPILOT, Columbus, Ohio, good condition.
Source: Chronicle Telegram, Elyria, Ohio, 1985-10-16 Posted July 1st, 2010 by Stu Beitler
Submitted by: N/A, 20110802
https://www.popasmoke.com/kia/conflicts/usmc-reserve/incidents/19851016