Here's a Type 98 (aka M1938) tropical jacket with insignia for a Sgt. in the Kenpeitai.
The stamp is still partially legible but I can't read the date.
The tropical version is made of a cotton twill while the standard ones were wool.
The armband has some wear and signs of aging which lead me to think it is original (there are recent repros out there), but I'm not entirely certain if the white laces
and especially the safety pin holding it up are, I think the previous owner put that in to help display it.
Some period photos show some Kenpei used some sort of string tying method, possibly by puncturing a hole in the top of the armband, to help hold it up.
The police stars on the collar above the rank boards definitely appear original however, they have some tarnishing and have both been bent.
This jacket was worn a lot; heavy fading, sweat staining, and the collar especially has seen a lot of wear.
That being said, despite the fading, staining, fraying, and tarnishing of the brass buttons and insignia, it's in quite good shape;
no notable holes, tears, stamp still mostly legible, and no missing buttons.
Collar closed. The upper chest pockets close with single brass buttons while the lower hem pockets do not close.
Collar open.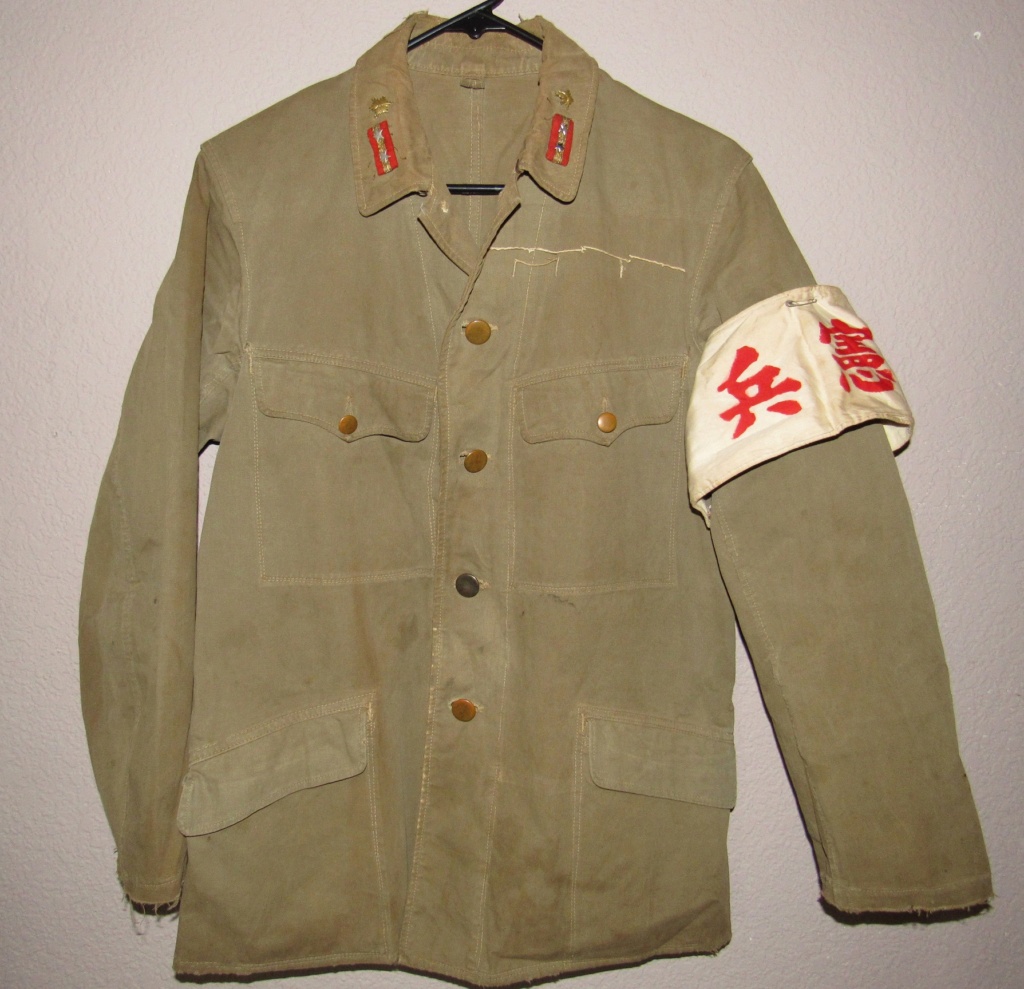 Rear. Note the splits at the sides for sitting/riding, and the button loop at the rear left. That was to help secure the leather web belt
when drawing the Type 99 bayonet or the shin guntō (新軍刀) sword.
I didn't take a close-up, but there are also holes intentionally left sewn open in the armpits for ventilation, a feature that continued
with the later JSDF uniforms.
Collar, showing 軍曹 (Gunsō) Sergeant rank boards and metal police stars sewn above.
Also note the hanging loop and heavy wear and repair to the collar.
Threads sewn and tied into the chest to hang ribbons and medals/awards, sadly missing from this jacket.
Also notice the slanted opening breast pockets with scalloped flaps, and the stitching along the front opening up to the collar
to allow it to be worn fully buttoned or to wear the lapels open.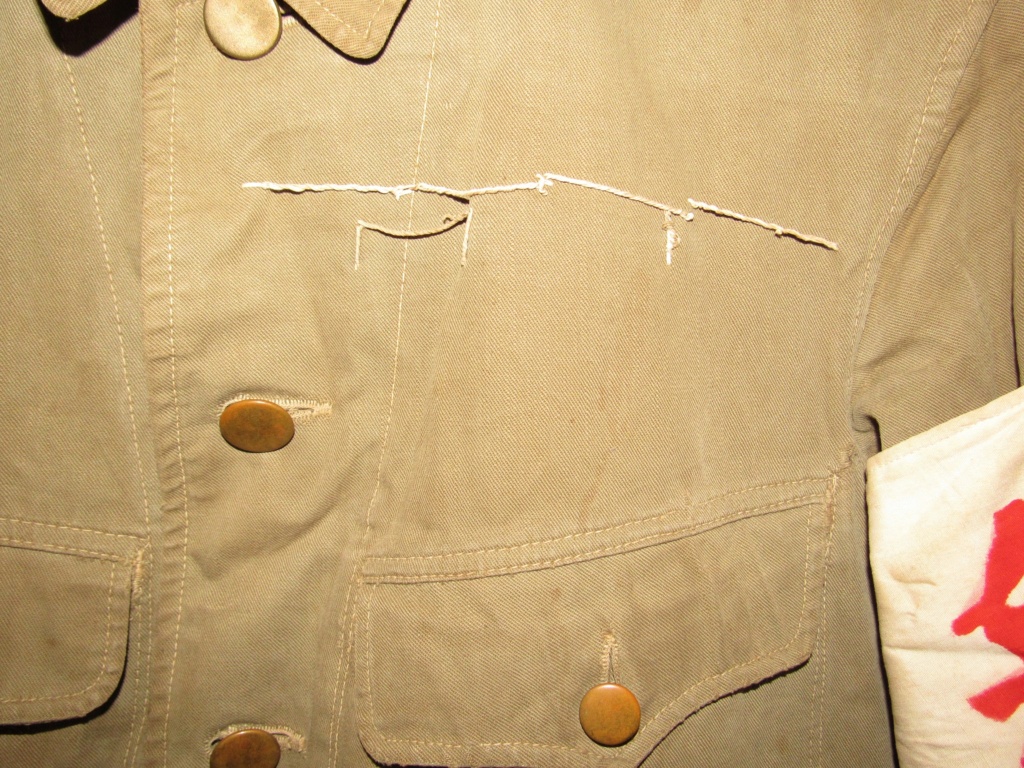 The lace Kenpeitai armband, reading "Military Police Corps". In quite good shape, albeit no longer white from discoloring.
The left interior of the jacket, showing the stamp on the reverse of the left breast pocket, and a single open lower
pocket on the bottom near the opening, possibly for a bandage.
And a closeup of the stamp. If I retake a clearer photo maybe Google's new image text translator might be able to get something from it, but Kanji is beyond me.
And some ref pics. Most Kenpeitai photos I found show either the Type 98 overcoat or earlier Type 5 tunic with stand-up collar being worn.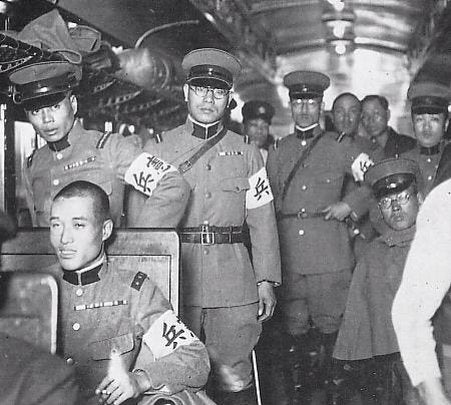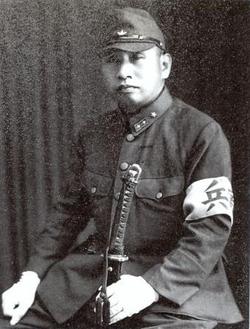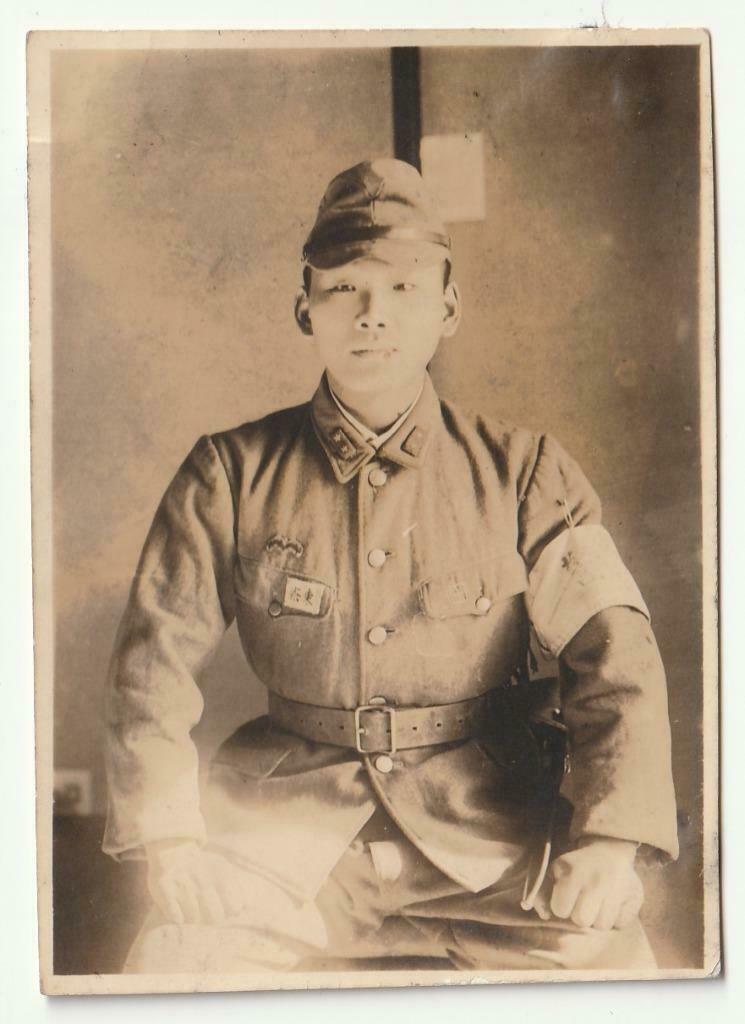 If anybody has some WW2 Japanese uniforms or equipment, I'd love to see them. Feel free to post any items or
photos here as well.
Enjoy!
-Nate