UNKNOWN WW2 NAZI MEDAL

theater_made_collector

Corporal





Location

: united states of america


Registration date :

2012-07-05


Number of posts

: 42

Anyone know what this is or if it is real?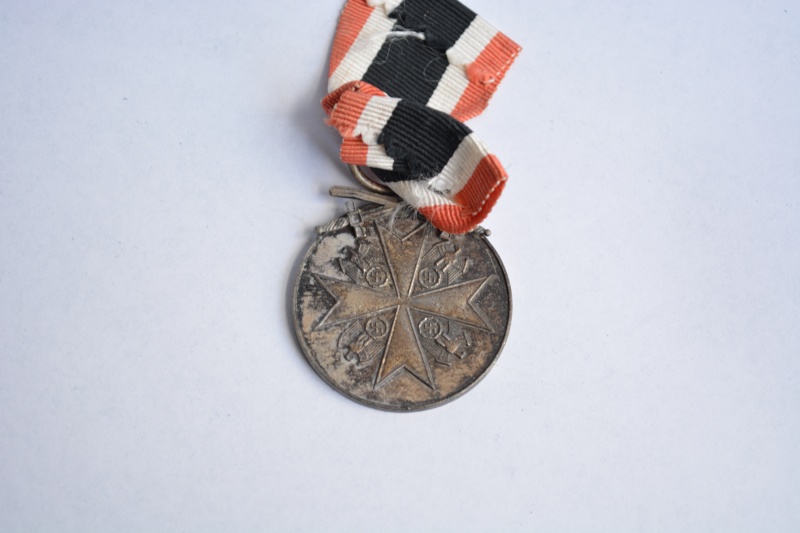 theater_made_collector

Corporal





Location

: united states of america


Registration date :

2012-07-05


Number of posts

: 42

Here is a picture of the back

1stDivVet

Colonel





Name

: Fins...


Age

: 51


Location

: Ohio


Registration date :

2009-03-24


Number of posts

: 2559

it is the German Eagle Medal of Merit with Swords. (Deutsche Verdienst Medaille mit Schwerter). It came in different classes. Not sure what they were. It was to foreign political dignitaries originally and the swords were supposed to be for distinguished military merit. The ribbon is wrong tho. That is for the War Merit Cross. I'm not an expert on WW2 German, but the ribbon and medal both look real to me.

Fins,,,

_________________
If i'm the stupid one, why do they have a book with pictures of the militaria and I have the real things??

Sarge

Junior Sergeant





Age

: 84


Location

: Colorado


Registration date :

2010-07-31


Number of posts

: 164

If memory serve me that is an Order of the Eagle 5th Kl/swords.  Is the ring marked?
Yes, War Svc Cross ribbon.  
Sarge