I was getting ready for my second OIF trip in 2004 when the Army announced the ACU in UCP and had a spread in Army Times detailing the features of the new uniform.  I'd also heard that 2ID was going to test the configuration in Iraq in a DCU pattern uniform, so I modded one up similarly.  I didn't have time to complete it prior to deployment- I'd finished the mods myself, but it had no insignia, and I figured I'd just get that done in-theater.
And I did.
With direct embroidery.  All of which cost me $8.00 at the sew shop in Kuwait.
My mods: took off all buttons and replaced with Velcro on pockets and zipper+Velcro on front; pulled the lower pockets off and placed them at a top-forward angle on the upper sleeve, with the one from the left shirtfront on the right sleeve, so that the bellow was downward and to the front instead of upward at the back; pulled the upper pockets off and canted them top-inward like the old-skool OG107s; cut up a training DCU JSLIST and made extra pockets for the pants and placed them on the outseam just below the knee; moved the regular cargo pockets around more toward the front of the leg and slightly higher so they were easier to access when crouched or sitting.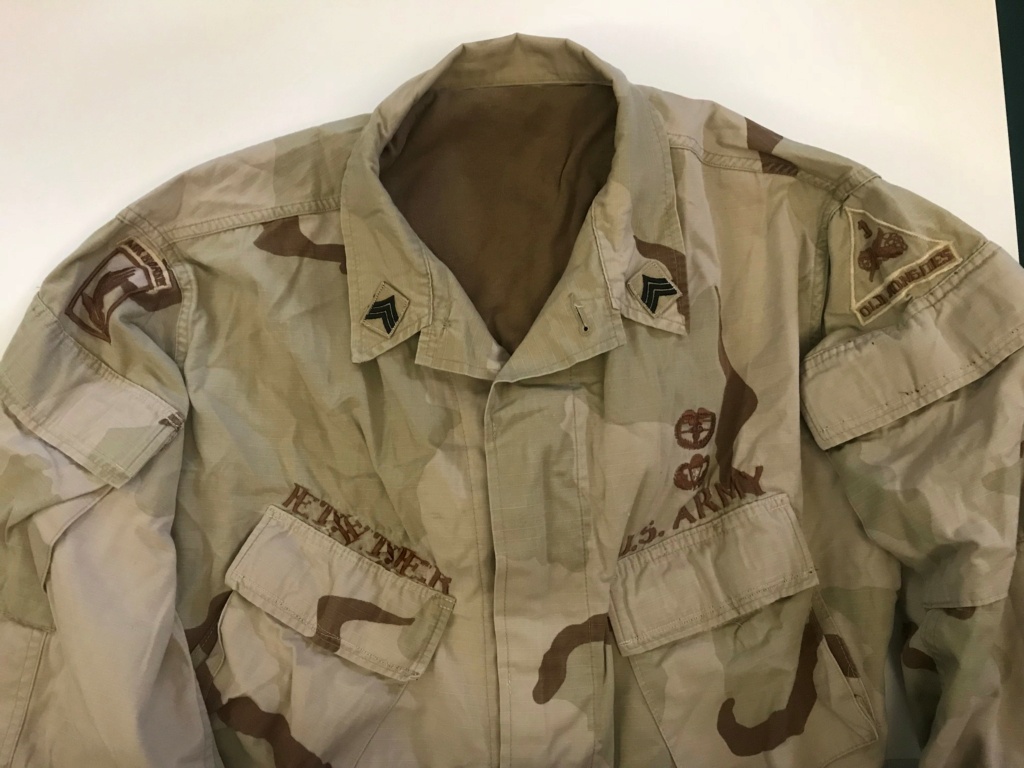 Direct embroidered CMB and Combat Jump Wings
Direct embroidered 173d SSI- because of the pocket placement, the shop scaled down the SSIs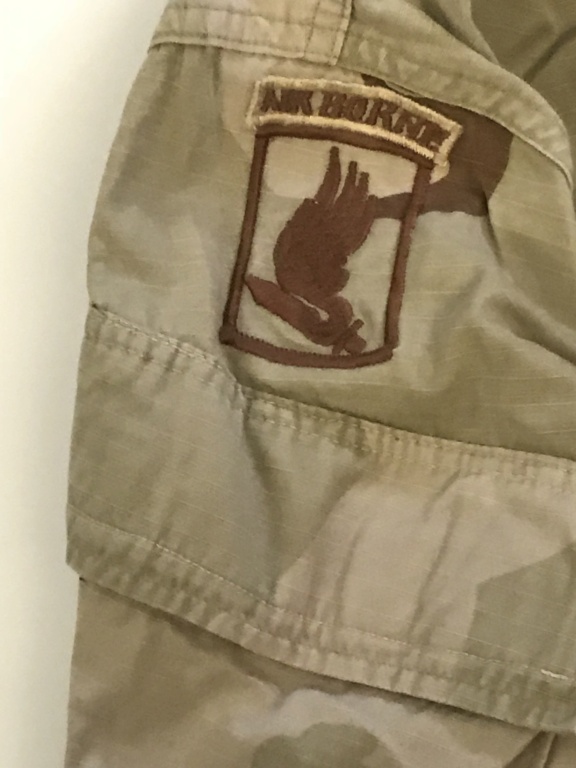 Direct embroidered 1AD.  
About a year's worth of wear and tear and stains.  
One filthy and rare day on a strange FOB, I was in their DFAC with my guys--taking almost UCMJ-actionable advantage of cool(ish) air and assorted soft drinks, not to mention their better-than-MREs-but-not-by-much groceries--when a random Command Sergeant Major dropped himself into the empty seat across from me and said, "Sergeant, I have a question about your uniform."  
I thought to myself, "Aw, sh!t.  I'm gonna get reamed out for the sewing and mods..."  But we must persevere, so I said, "What can I do for you SarMajor?"  
He sez, "Are you allowed to quarter-roll your sleeves and cuff your pants with that uniform?"  
Seeing an opportunity, I replied with, "Well, it depends on a few things, SarMajor.  Mostly HeatCat, but that's something that is usually up to company commanders with input from their senior medic.  I'm not sure if I'd recommend it today, but the last week has been a muddafukka and our CO had all our dismounts roll sleeves and cuff pants, and Brad crews were in brown t-shirt and cuffed pants.  Same kind of rules we work with in BDU or DCU."  
He had a kind of stunned look, and said, "OK, thanks, Doc."  He then took off, presumably to find someone else to harass...
An aside- this deployment fell outside the theater-normal rotation, and was colloquially referred to as "OIF 2.5".  We were a unit mashed together from 10 MTN (full Light Infantry brigade), 1AD (mixed battalion- 2 Mech Infantry Brad companies, 1 Armor Abrams company, 1 Mech Infantry HHC), and 11 ACR (a Combat Engineer company, often informally referred to as Task Force Milley.  Yep, that Milley.  At that time he was the Brigade Commander of the 10 MTN element.  I have a few documents with his signature on them, which, while not supercoolamazingsplendiferous, is at least a little spiffy to have a valor award signed by the man who became the Chairman of the Joint Chiefs of Staff.  
I apparently do not have photos of the pants that go with this shirt.  I'll see if they're tucked away with it in the duffel bag.  I get to pull some of this out every year to show to middle schoolers on Veterans Day, and that uniform gets some attention.