Yep, his ONE DCU, that was issued to him at Ft. McCoy, Wisconsin, when he was RETURNING from Op Desert Shield/Desert Storm.  
At that time, he was a MP company commander in the National Guard.  He'd enlisted in 1981, made it through Basic and MP AIT at Ft. McClellan, Alabama, and went through one summer AT cycle before seeing that the company was
REALLY
f!!cked up and in serious need of leadership.  A good part of this was because two platoon leaders and the CO didn't show for AT, not to mention numerous junior enlisted Soldiers and NCOs...  Bear in mind that this was the National Guard in 1982, and such absences were apparently common across units and state lines.  
He applied for and was sent to OCS, was his class' Honor Graduate, and was commissioned in 1983.  The following AT went a lot better, as the story goes.  As is common for many junior Army officers, he was taken out of his unit and primary branch and put into another-- Ordnance--for a while before rotating back to the MP company as a platoon leader, then XO, and ultimately as CO.  
There's another story from Spring of 1990 involving an ex-cop who graduated from law school and was interviewing for a position in the DAs office in the next county over, and one of the questions went something like, "So, I see you're an officer in the Guard- how do you think that will impact your work here if we hire you?"
The ex-cop/lawyer/NG Officer answered with something along the lines of, "Most likely minimal impact.  Drill is scheduled for weekends, AT is scheduled well in advance and we could arrange my caseload to work with those two, and I don't foresee any kind of combat on the horizon."  
DUN DUN DUUUUUUUUUUUUUNNNNN!!!  And Saddam invades Kuwait a bare two months after my dad starts working at the DA office.
My dad took the MP company to Ft. McCoy, Wisconsin for pre-deployment train-up in January of 91, and they got to KSA in late January.  They pushed forward and set up camp in the desert--and there are yet more stories involving acquisition of chow and luxuries like cots and showers, all properly signed for by COL (but sometimes SFC) John M. Wayne--and prepared for MP wartime operations.  I'm going to have to get him to sit down sometime and record those stories!
In any case, the MP company--like many others, I would think--went through the entire ODS deployment in woodland camo.
It was never fully explained to him--other than "You're going to be in parades and other celebrations, you need to look the part!"--why they were issued DCUs at all, particularly when they were told that they would have to turn them in on some future drill date.  Eventually that turn-in order was rescinded, and everyone got to keep the one complete DCU they'd been issued.  One shirt, one pair of pants, one pair of boots, and one boonie hat.
Here's the shirt.  Again, when things come out for Veterans Day, I'll try to get more photos for a more complete look at DCUs issued to the [STATET NAME] National Guard in 1991.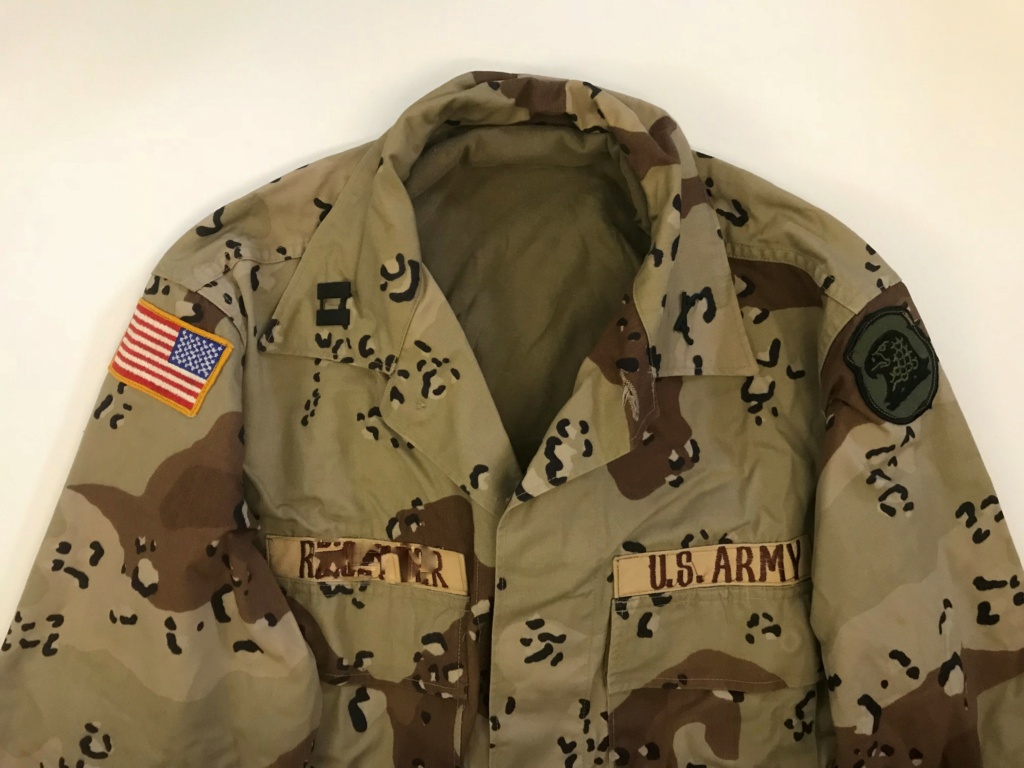 Note the "Disco Stu" collar.  I'm SOOOOOO glad later 3 color DCUs went away from this!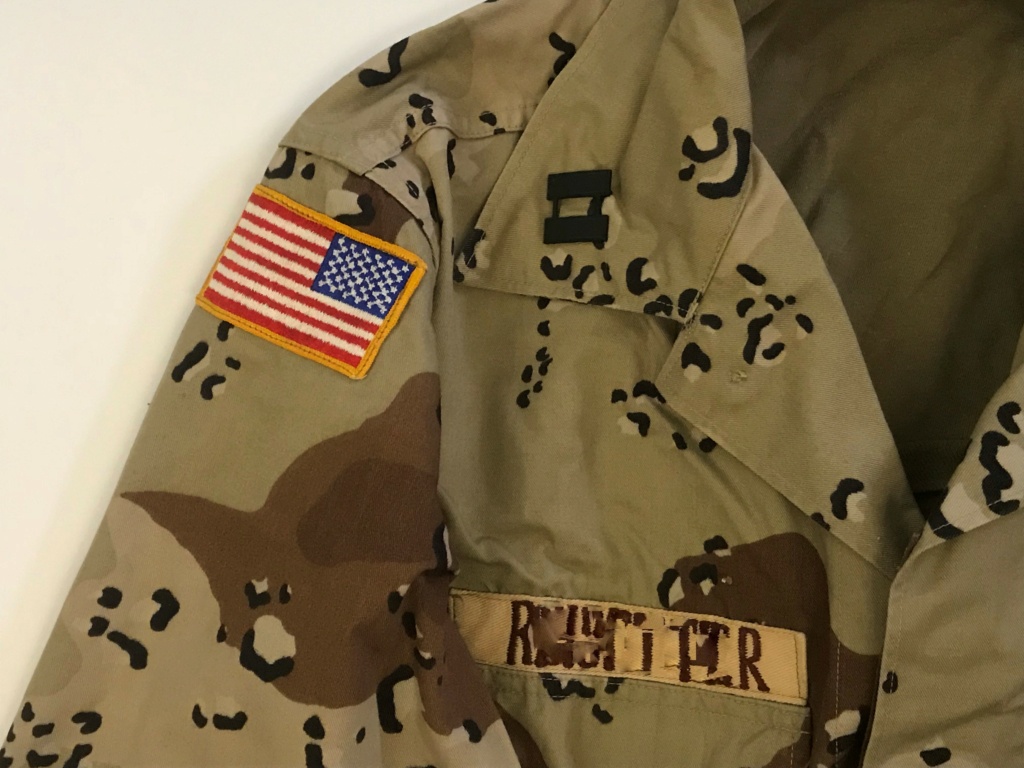 Mixed OD and desert insignia- just as it was issued. I don't recall whether my dad told me why his collar insignia stayed pin-on as opposed to his usual/apparently preferred sewn-on, but those are the same badges he put on the collar when it was issued. In spite of this being uniform of the day for drill for several months following redeployment, he never went back and had the insignia sewn on.