As many of you know, I have a weakness when it comes to collecting. My weakness is modified US military jackets (Woodland, 6-Color Desert, jungle jackets, DCU's, etc.) I have really lost count as to how many I really have, but I believe the number to be close to fifty! If I see a modified jacket for under $20, I usually pick it up. Anyway, this is an oddball piece. I picked this up at a surplus shop in Ohio a year or so ago. I almost pased it up, but for $12, I couldn't leave it there all alone! So now it resides in my collection and is one of my more favorite modified jackets. I only have one other modified USMC jacket and that is a modified ERDL set that I got off Steven. Modified USMC jackets are EXTREMELY rare and if you see a legtimate one, buy it for your collection. You won't be sorry....I promise!
Anyway, here is the jacket. I believe this one dates from the mid to late 1990's. The tag is washed out, so the date is almost impossible to read. I verified with a Force Recon guy that the indeed did use jackets like this. Hope you enjoy it. If you have any questions about modified jackets, just let me know.
By the way, modified means that the soldier has taken the pockets off of the bottom of the jacket and sewn them on the sleeves. Sometimes the soldier would use pants pockets or even take pockets off of other jackets and add them to the sleeves
Close up of chest pocket.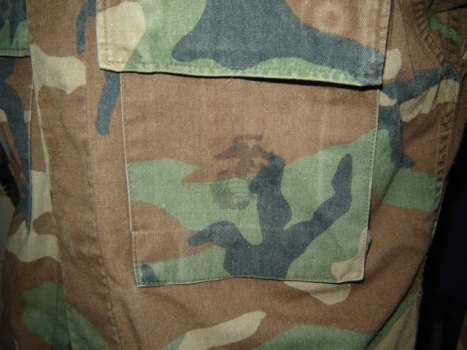 Close up of sleeve pockets.
Another close up of other sleeve pocket. Notice the Eagle, Globe, and Anchor embelem on the pocket.