Hello,
I am posting the FELIN T-4 uniform in his winter version which is also named
Tenue de Combat Nouvelle Génération
. This example has been produced by LEO MINOR.
Based to first RetEx from OMLTs by 2008, the FELIN T-3 was born and then in February and March 2009, further to veterans experiences at their return from the conflict (RetEx program) the SCA (Service du Comissariat des Armées) launched the production of a new generation uniform, the T-4.
At the end of June 2010, the production of the T-4 was launched. The goal was to produce 365 000 pair of trousers and 265 000 vests. Considering a Ministry of Defence note... I seems that the next production will be made in ripstop. I guess, they still have plenty of F-2 rolls of cloth to spend before producing a new version.
They were supposed to be supplied to troops at late January 2011 and T-4 are actually worn in Afghanistan.
Comparing to the T-3, the FELIN T-4, the new generation combat uniform of the French Army is supposed to be more comfortable for the soldier. The uniform is anti-mosquito treated as written on the vest' tag.
Few modifications were brought to make it more adaptable to gears.
For example, on the vest, the two upper chest cargo pockets and the buttons by the front opening zipper have been removed because it impossible to reach your pockets with the frag and the canadian type buttons were hurting when you are wearing the armor chest harness. The traditional two frontal inside zippered pockets where moved on each border sides of the vest too. Two forearm pockets instead of one. One elastic band inside the vest. Two army green adjustable straps on both arms to adjust the protection elbows pads.
The pair of trousers is also having few modifications too. Zippers at the bottom of the legs. Two tourniquets on both thighs. As for the vest, cargo pockets are bigger and velcro have been fixed to them (
probably for the Black & Red Cross patch for the first-aid
) and have additional inserts inside. Two army green adjustable straps on both legs to adjust the protection knees pads.
A hood is completing the set (missing on this example). Buttoned instead of zipped on the collar of the vest.
Hope, I make this presentation of the new generation combat uniform of the french army understandable.
Jean-Yves
The FELIN T-3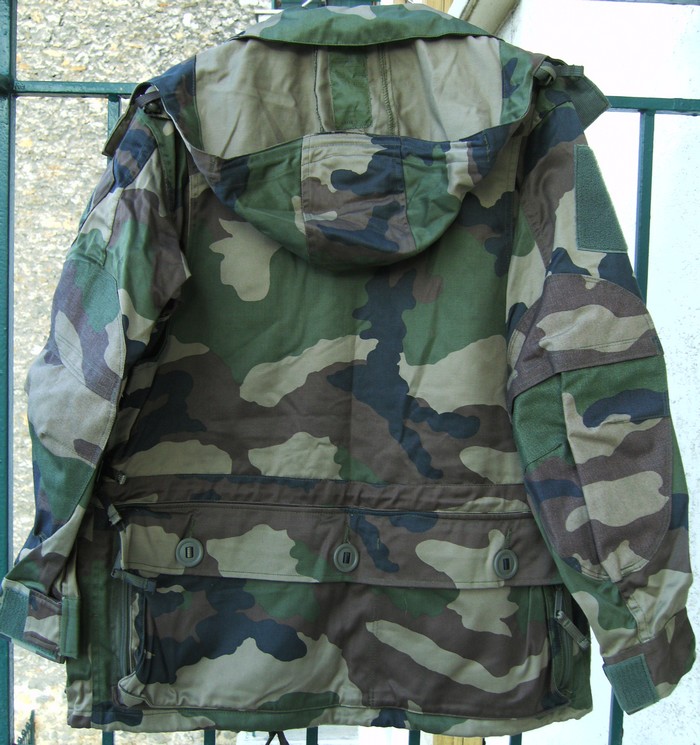 THE FELIN T-4