I bought some (old) US Airforce wooden souvenir plaques in The Philippines at subic bay area.
i hoped to find some subic US  navalstation stuff or Clark US airfores items,but thats very difficult so i only got these old souvenir plaques that maybe from the period and have connecion to Subic or in this case the clark airforce base(13th and 5th airforce)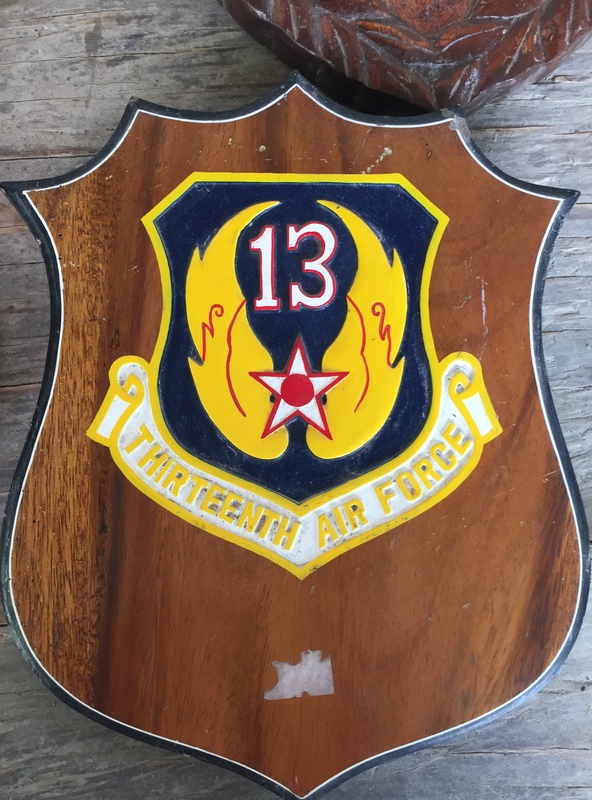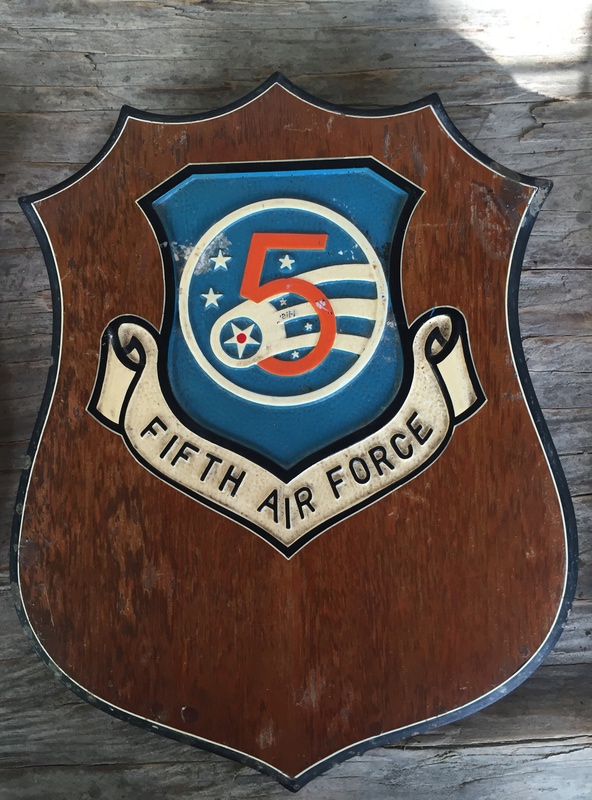 i made some pictures of the old and new collection at the woodcarving shop.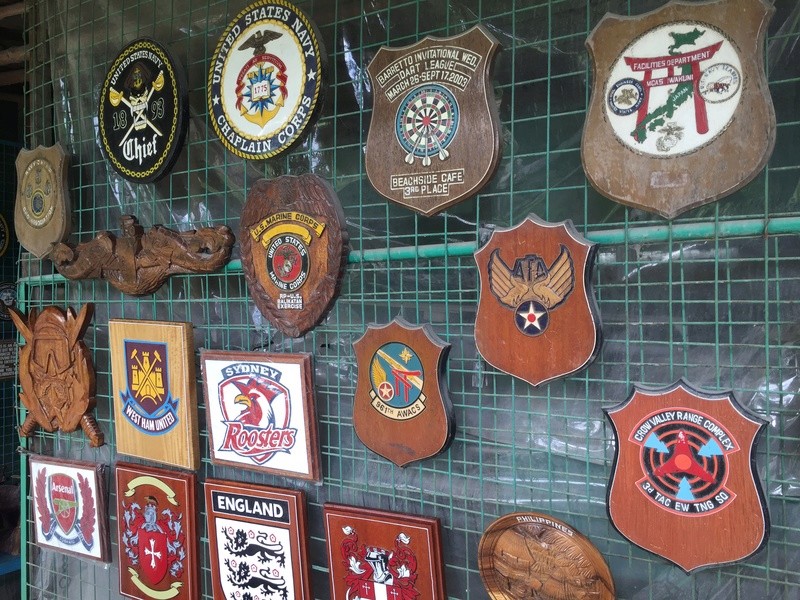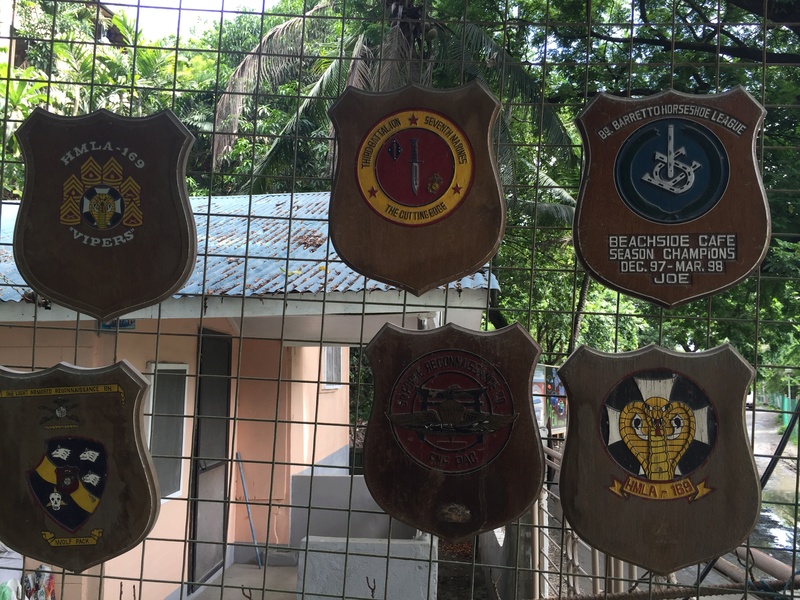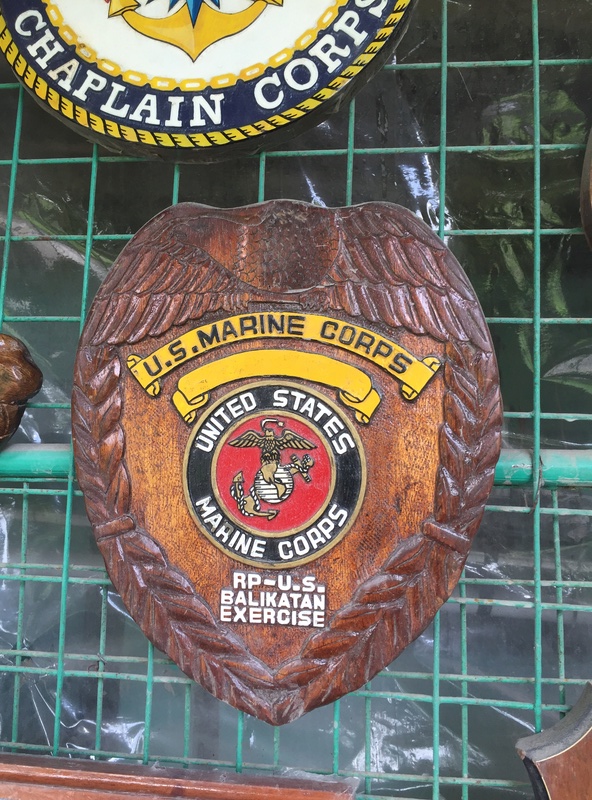 philippines and united states militairy exercises Balikatan.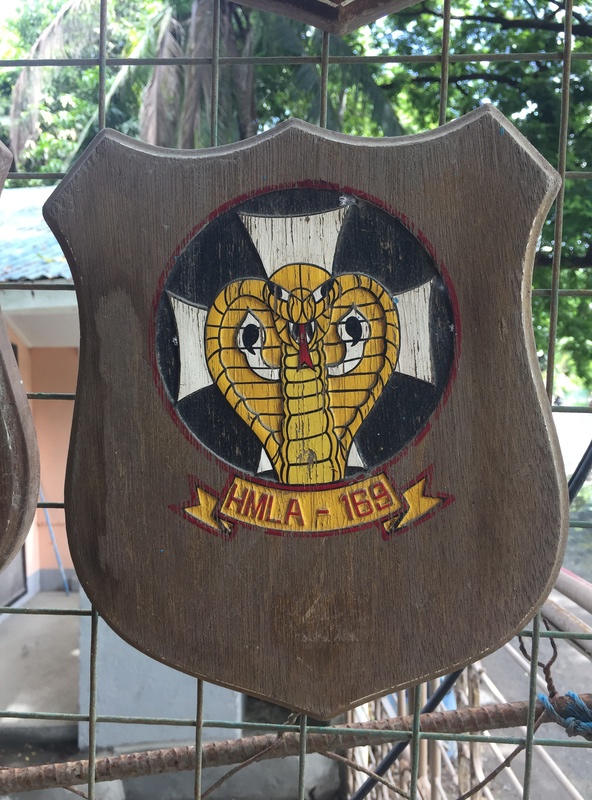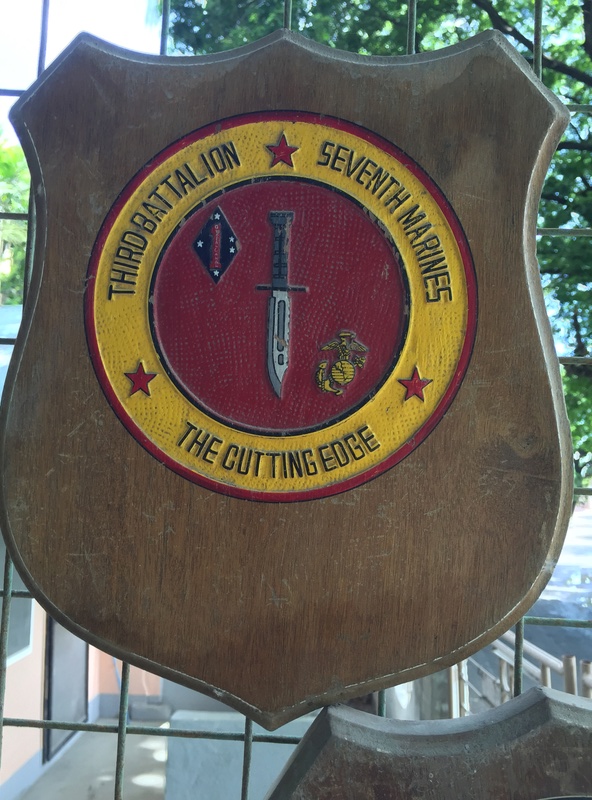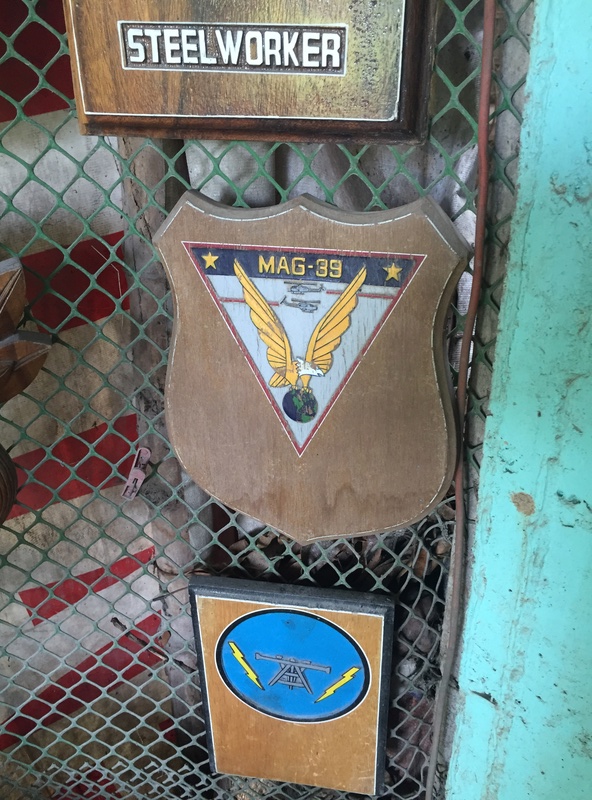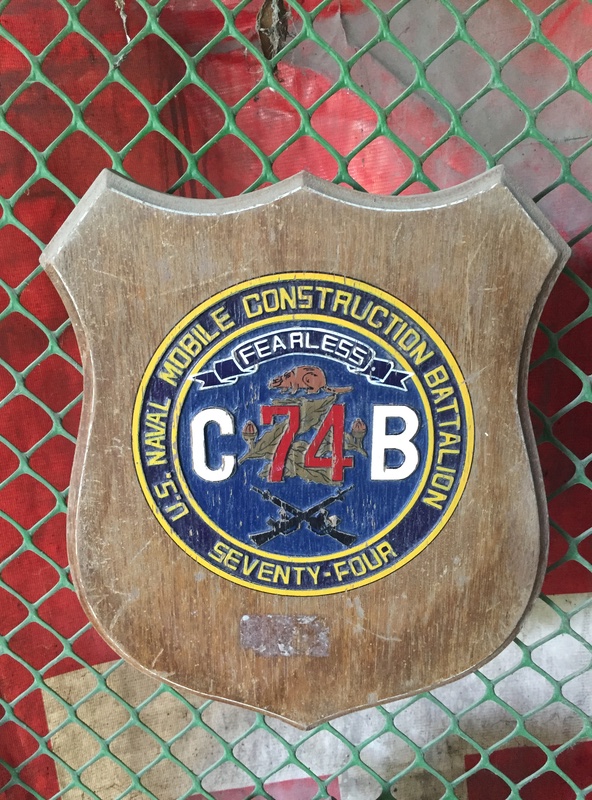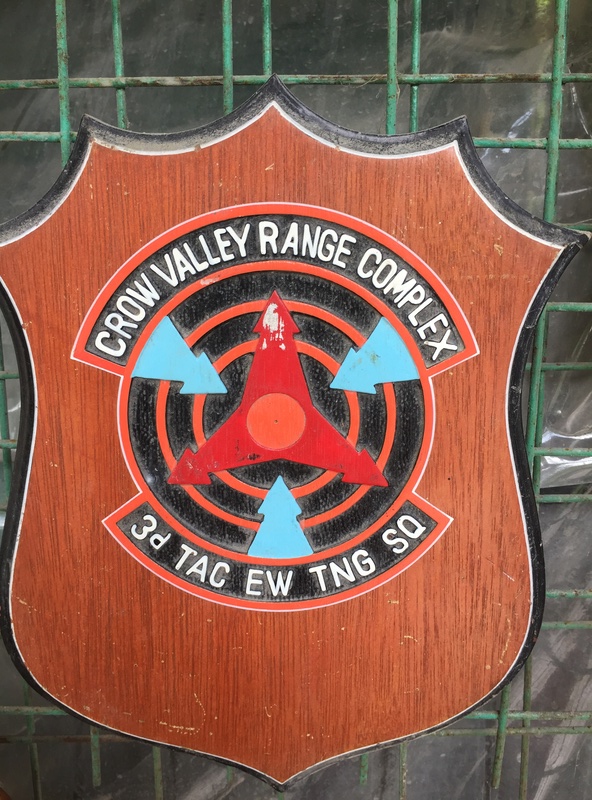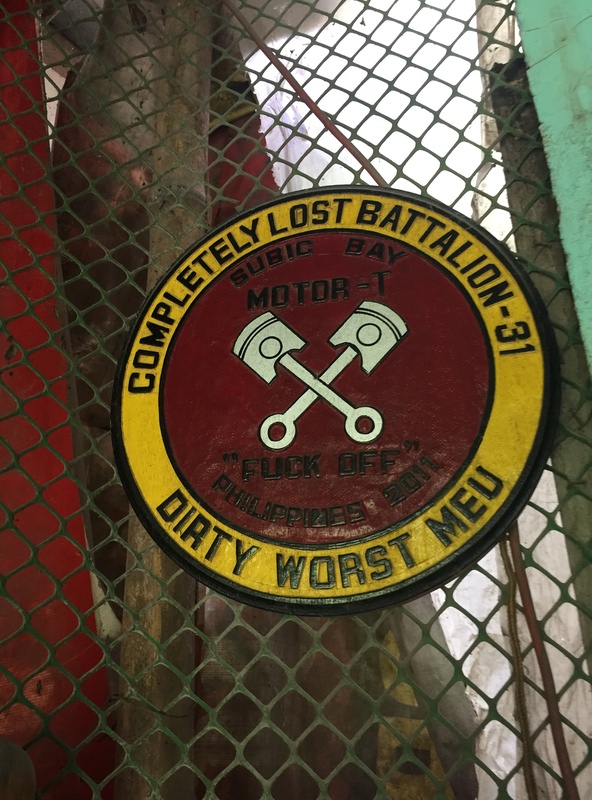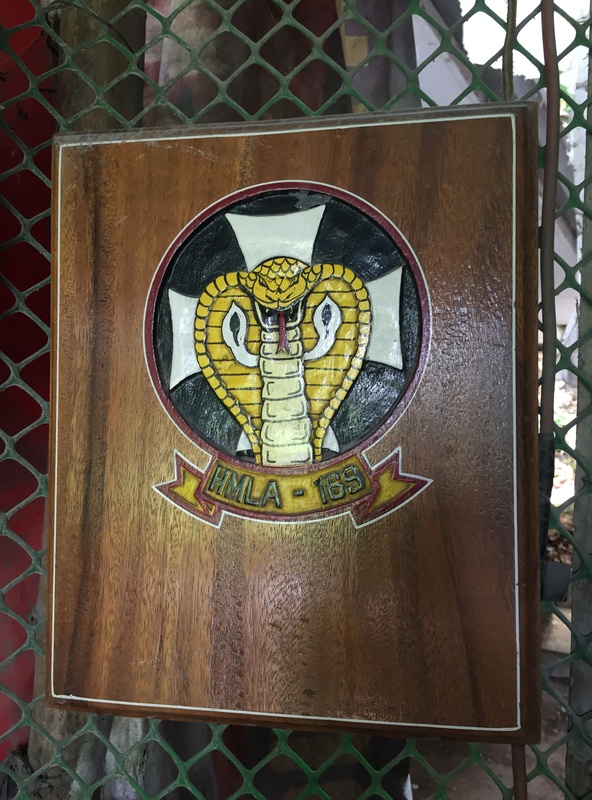 Sorry that al my picteres skewed!
Lots of these plaques are hanging in bars and hotels around subic bay area.
when i did some research i found  (old news article)  about it:
Olongapo welcomes US troops' return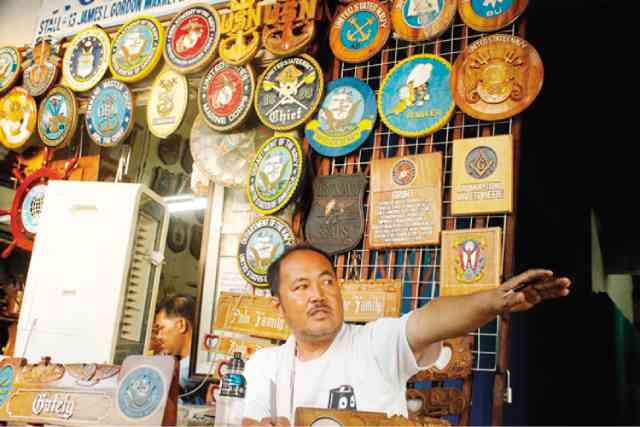 RODOLFO Palo, who tends a woodcraft shop outside the Subic Bay Freeport, a former US naval base, awaits American soldiers to buy his products. RANDY DATU/CONTRIBUTOR.
From his woodcraft store just outside the former US naval base in Olongapo City, Rodolfo Palo, 59, eagerly looks forward to arriving American soldiers who will join the annual military exercise "Balikatan" with their Filipino counterparts.
His artworks are on display in his small and crammed shop in front of the Barangay (village) Pagasa public market, waiting to be sold to soldiers who want a souvenir where their names are carved.
"Just seeing their names on this wooden souvenir gives them that sense of pride when they go back to the US. It's their proof that they have been to the Philippines,"
Palo says of his American customers.
His family relies entirely on his income from selling wooden nameplates and souvenirs to make ends meet, says Palo, a father of three.
It was in 1984 when he began making souvenirs for a living, bringing some of his works inside the US naval base and selling them to American soldiers. At any given day, as long as there were Americans around, he would earn between P3,000 and P10,000, depending on the number of items he could sell. Back then, each wooden nameplate would cost P500, Palo says.
He says 90 percent of his customers were US servicemen. So when he heard that US troops could possibly be back in Subic more frequently now, he welcomed what he described as "good news." For Palo, the return of American soldiers could mean more income.
"When the [US Navy] base was still here, a navy officer once bought 20 pieces of wooden desk signs from me in just a day," Palo says. "Just imagine how much I will earn if a US carrier with 6,000 soldiers on board arrives here."
Also a former US navy base worker, Palo says he would sometimes accept "domestic jobs" inside the base when there were no US warships docked in the port. He would clean toilets in the barracks of American soldiers even without being paid just to make sure he could easily be anywhere near his American customers to sell his products.
Palo says locals benefited from the former US navy base because of the thousands of job opportunities it created—until the last of the American forces pulled out of their bases in the country in 1992.
'Special connection'
But more than the earnings, Palo says he has developed a "special connection" to American soldiers.
His adopted son, Rogelio, was an Amerasian. The boy, at the age of 7, died of leukemia in 2000.
The child, Palo says, was abandoned by his American father and was given away by his Filipino mother when he was a month old.
He belonged to the last batch of children sired by American servicemen with Filipino mothers during the 90-year presence of US troops in the country. US forces left Subic Bay in 1992 after the Senate rejected the extension of the 1947 Philippines-US Military Bases Agreement.
Cause-oriented groups, Palo says, linked the boy's illness and death to exposure to toxic wastes left by the Americans in the naval base.
Even so, Palo says he bears no grudge against the Americans.
Nothing wrong
Palo is one of those people in Olongapo who see nothing wrong with the increased presence of American servicemen after the Philippines and the US recently signed the Enhanced Defense Cooperation Agreement (Edca).
Under the security pact, US forces are allowed to temporarily access selected Philippine military camps and preposition their fighter jets and ships.
Former Olongapo Mayor James Gordon Jr. says there is a "silent majority" in the city that favors US troops' return to Subic, which used to host America's largest military naval base in Asia.
Gordon says he witnessed how the local economy of Olongapo got a boost with the help of American servicemen.
"People in Olongapo were hired in the naval base and local businesses benefited directly and indirectly from the presence of Americans," he says.
As for issues concerning the expected rise in number of women in prostitution once US troops are back, Gordon says law enforcement must be intensified to prevent it.
Incumbent Mayor Rolen Paulino has openly expressed support for the increased US military presence in the country. Before the American troops left Subic, he says, "more US ships meant more dollars being infused into the local economy."
Some former base employees and their families, through a group in the social networking site Facebook, have also expressed support for Edca and the presence of US troops in the country, particularly in Subic.
Susan Eusantos, whose father worked as a foreman at the former US naval base's public works center, says: "Welcoming the US military presence, particularly in Subic, helps boost the city's economy. [The Americans provide] ready assistance [that] they will extend to our country's security."
Link:
newsinfo.inquirer.net/600153/olongapo-welcomes-us-troops-return
Thx for looking
Mabuhay