Hey guys! I know I haven't posted much lately; it's been a combination of being too busy with school but also the fact that my collection has shifted over from camouflage to more gear-oriented (I guess I might have to change my psuedo, huh?). But ever since I first saw the trial photos of this camouflage pattern I have been obsessed with it.  I think that it must mess with your mind. I know I used to get headaches when seeing the first color variations of it. Anyways, I finally got my hands on a piece (and didn't have to pay full retail price for it!). Kind of disappointed it's in one of the later subdued coloration, but apparently it works because several people failed to see me standing in front of my dorm for about 5 minutes in broad daylight!
Unfortunately, I don't know too much about the development history of this family of patterns, called 'Dispersion' by the parent company Arktis whom we should all know by now for producing a lot of after market kit and a few official garments. ArkAir is their civilian moniker (nom de paix?). Ostensibly it was trialed as an urban camouflage, and if you've seen the promotional pics it seems to have worked quite well. However, it really found its niche in the fashion market, and since then they have come up with seemingly hundreds of color variations and marketed them to the trendy (at a price to match, as of writing, the only garments in any Dispersion pattern available are around 300 GBP!). Needless to say, I didn't pay this price on a student budget.
However, that being said, Arktis/ArkAir are still a high-quality manufacturers and I really do love the jacket. Though I prefer their more military-style smocks with a gazillion pockets, this one still retains some of their better features.
Canadian-style buttons, lined pockets with slash-pockets behind them.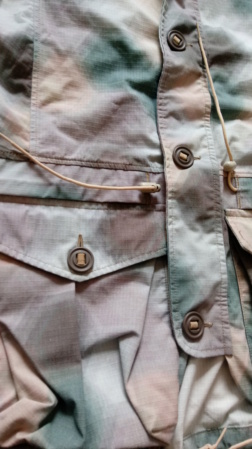 Heavy-duty zipper
Hood also has a wire reinforcing for the brim.
I am unsure if there are any examples out there that are "Arktis" branded as opposed to "ArkAir". Just a personal note, as far as a smock fit is concerned, this is more equivalent to a size small (which is perfect for me).