I drag most of my collection down to the middle school once a year, on average.  
I think I've mentioned before that the local middle school invites veterans to an annual day-long Veteran's Day event.  This is an open invitation passed to any veteran connected to the community/school district, and is passed on through social media, email, snail-mail, and word-of-mouth.  In the dark ages of Pre-COVID, the turnout was pretty spectacular- we'd have several dozen veterans from WWII through fresh-out-of-basic/boot.  
The day begins with a flag-raising ceremony.  The middle school student body and staff gather out in the circle drive around the flag pole.  The choir sings the National Anthem.  The local American Legion Honor Guard escort the flag team to the pole, fire three-round volley, and then render a salute as the flag is raised while trumpet players from the school band pour heart and soul into Taps.  Bear in mind that this is mid-Iowa in mid-November, and usually COLD.  
After the flag raising, the veterans gather in the teacher's lounge for coffee and donuts (no Red Cross girls, unfortunately!) before being split up and sent out to classrooms.  Student Council members escort groups of two or three Vets to each class, and we spend 45 minutes or so relating our experiences to the students.  At that time, the students rotate to another room and another group of Vets.  We do three rotations like this.  After the third group, the students go to lunch in the commons, and the Vets return to the teacher's lounge for a pot luck provided by the staff.  It never fails to please- Mrs. K brings beef stew, Mr. D brings taco soup, and there's always chili, broccoli-cheese, and, for no good reason I can think of, vegetable soup (I'm a meat-eater.  If it doesn't have meat, I'm not interested...  I'm also something of a jerk...).
After lunch, most of the Vets head out and get on with their day.  A few of us stick around for the
real
fun part- afternoon activities.  Students are split into groups for various activities.  
In classrooms, the students have discussions and write reflections of what they learned from the Vets.
In the commons, donated items (candy, books, games, clothing, etc.) are stuffed into care packages for deployed servicemembers and homeless Vets.  
In the library, several of us lay out some portion of our own pile of gear.  The display includes original items used by local Vets, and the eras represented include World War One to present.  It's gotten pretty extensive, to the point that I'm going to have to be a little selective on what I bring in next time.
I don't know if I'll get it all pulled together for this year, but I acquired a major piece that I've wanted for a while- the harness and pack-tray for a T-10C!  In the spirit of the displays, I plan to set up a full jump rig- main, reserve, M1950 weapons case, kit bag, and single-point harness for the rucksack, and have these on hand for the kids to see another aspect of what I did.  
I plan to pack the main (with deployment bag and static line) and reserve full of old feather pillows, like I've seen done for training/static display at the Ft. Benning Airborne School.  The pillows give a close-enough approximation of the weight and balance of a packed parachute.  I might even let some sucker, er,
future Paratrooper
put on the harness, maybe even hang the weapon case and ruck...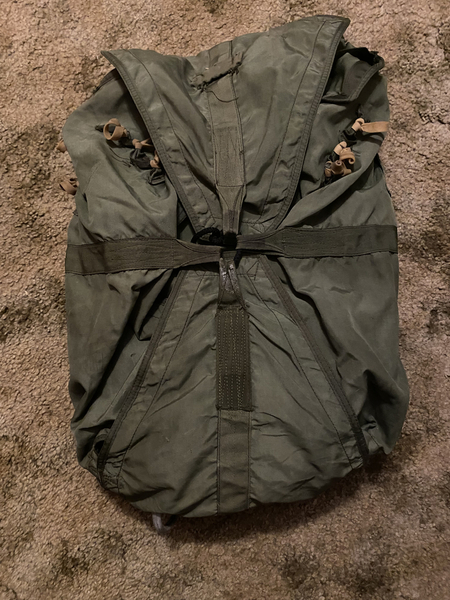 As you can see, I have the pack tray, main harness (complete, as far as I can tell) and riser assemblies.  Somewhere in my pile-o'-gear I have the single-point harness and HPT lowering line, so I still need to track down a reserve pack tray, M1950, and kitbag.