I came across this small image that was found on a Dutch Marines website and is simply titled "Blindicide shooting at Merauke in Dutch New Guinea, 1958"
and later "Black and white photo, reproduction of original print. During a firing exercise near Merauke in 1958, two marines are firing a blindicide anti-tank missile. A third marine watches. On the left are several marines resting."
I have found no written evidence that the Netherlands ever had examples of Blindicide RL-83, so my question is simply "did they?"
what are folks thoughts on the uniforms seen.  Dutch Marines? yes/no?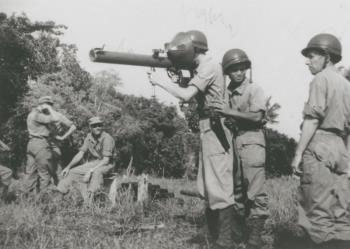 EDIT I have since delved deeper into the site and found 17 photos of Marines with Blindicide, so I now know the weapon was used by Dutch Marines. I have an answer, but thank you anyway.