Okay.....here is another odd modified pouch. This is another pouch that my dad gave me today. He is down sizing his collection and this is something he was getting rid of. I have never seen another rig like it before. Basically.....somoene took two M3 Grease Gun pouches and sewed them together. On top of that, they sewed the bottom of the pouches so it would fit Thompson SMG magazines. Not sure who would have done this or even why. Pretty ingenious in my estimation. Any thoughts?

I figure I am going to hold on to this rig and maybe put it with an early US advisor or a CIDG display. I know this piece is not expensive or anything, I just thought you guys and gals may like to see it. Feel free to comment.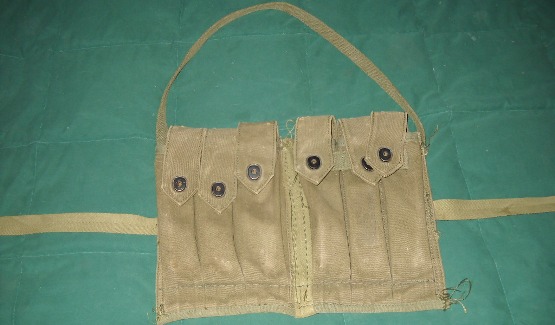 Back side of the rig. The rig has a strap to put around the neck of the wearer and and two straps to tie around the back.