I started reenacting American Civil War way back in 1983. You may not believe it, but my rifle musket, cap pouch, tin cup and plate, silverware, much of my money, and plates/insignia were originals. They were cheaper or about equal to repros then. Much of my repro stuff was from the centenial in the 1960's. Since then, I've done 11th Century Ireland up. Mostly displays and living histories now a days. I've had the honor of being a requested speaker at West Point, and as a speaker for the Custer Society, Part of the honor guard for one of the Hunley sailors during thier funeral, made 3 major motion pictures, a couple tv movies, a History Channel program, and several films for schools.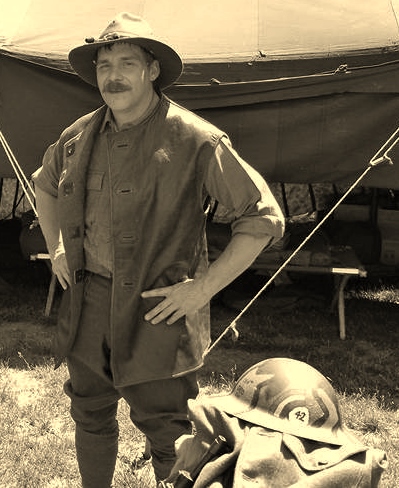 I found some pics and as I scan em, I'll post em.
1st up. Did a display for WW1 over in Dayton, OH at the VA there. Uniform is original. Hat, shoes, and jerkin are repops. This was taken last year.