Instead of just posting other loadouts under the 80's one in the thread named after it, I figured it'd make more sense to make a new thread
hosting them all, so here we go in chronological order.
Belgian army, 1950's.
M50 lower rank Battledress uniform
Infantry color collartabs
Bataljon Bevrijding shoulder insignia (5. linie)
1St infantry division lion patches
Unknown chest ribbon
Sporting badge (behind pouch)
FN49 (Mk2) helmet with net
Belgian made P37 style webbing (belt, 2 braces, 2 basic pouches, bayonet frog with British No4 Mk3 bayonet, US style canteen in pouch,
2 L-straps, modified British small pack, US M43 style shovel in pouch, messtins inside pack)
M51 gasmask bag
Brushstroke camo tent halve in pouch
Tent accessories in Camo pouch
P37 style anklets
Belgian made ammo boots
In the background: M50 greatcoat, early type M51 (M1) helmet with net, P37 style cartridge carriers.
Belgian 1st Parachute Battalion, 1960's Congo Crisis.
Brushstroke Para smock and overtrousers (side-leg square-corner pocket type)
Red beret with 1st Para badge
Belgian made P37 style belt and 2 basic pouches (tied lowslung on the belt)
Belgian made adaptation of the US WW2 design canteen in pouch (modified with beltloop)
P37 style anklets
Solidor low boots
In the background: another type of camo jacket with hood.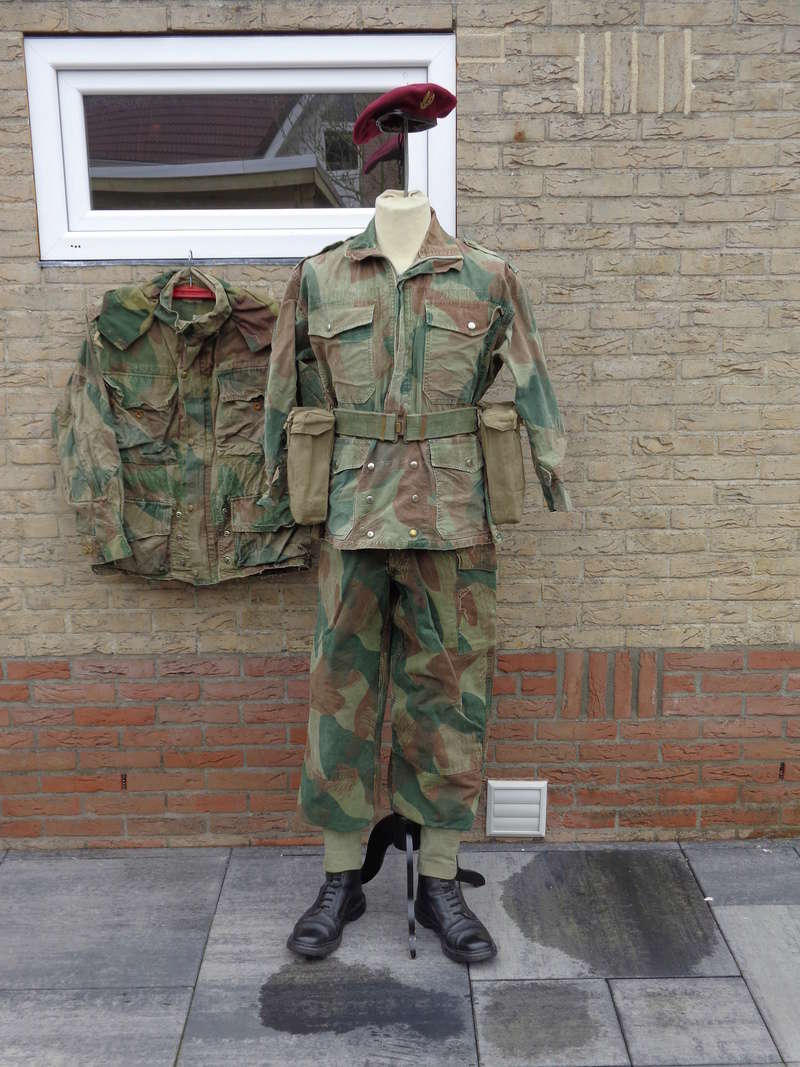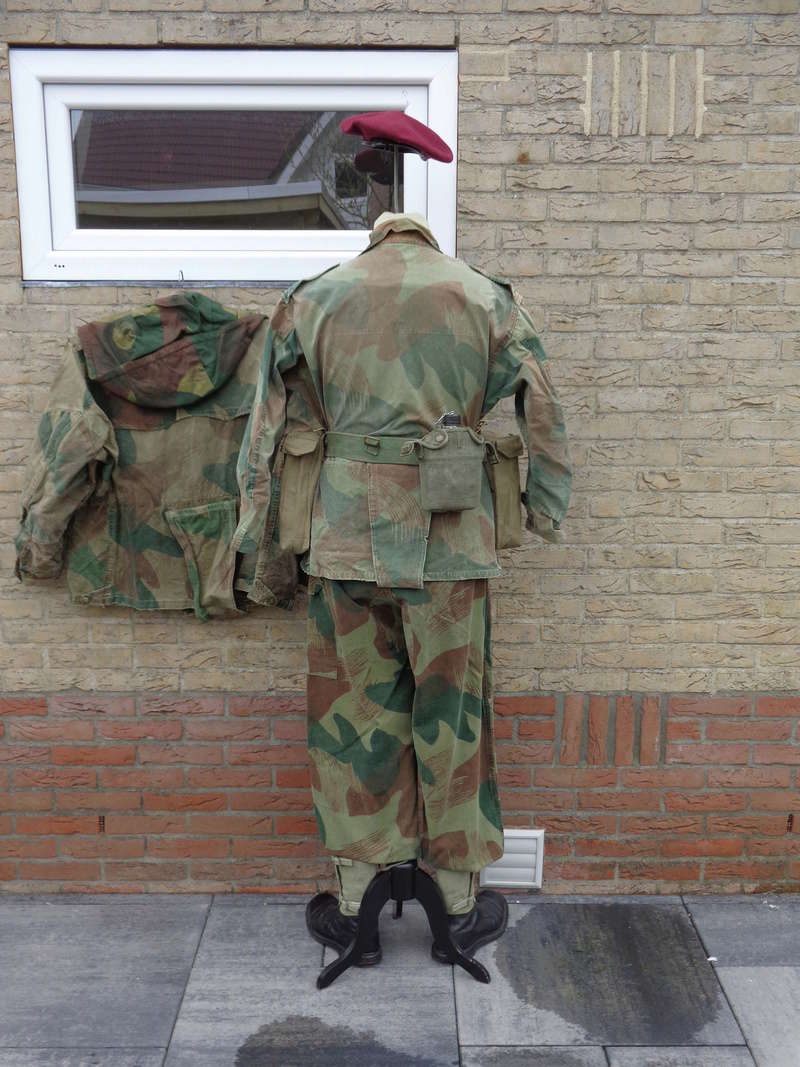 Belgian army, 1980's - early 1990's.
M64 summer uniform
M64 foul weather/winter uniform
M51 (M1) helmet with camo net
M71 belt
M71 suspenders
1 Nylon and 1 plasticized M71 magazine pouch (cheated with this a bit, 1 pouch is for FAL, the other for FNC)
Late type C FN FAL bayonet
M71 bayonet frog
M71 canteen in pouch
M71 multipurpose buttpack
M71 tent halve in pouch
M51 gasmask in bag
M71 backpack
M71? sleeping bag
Trifold shovel in pouch
Laced boots (older type, M??)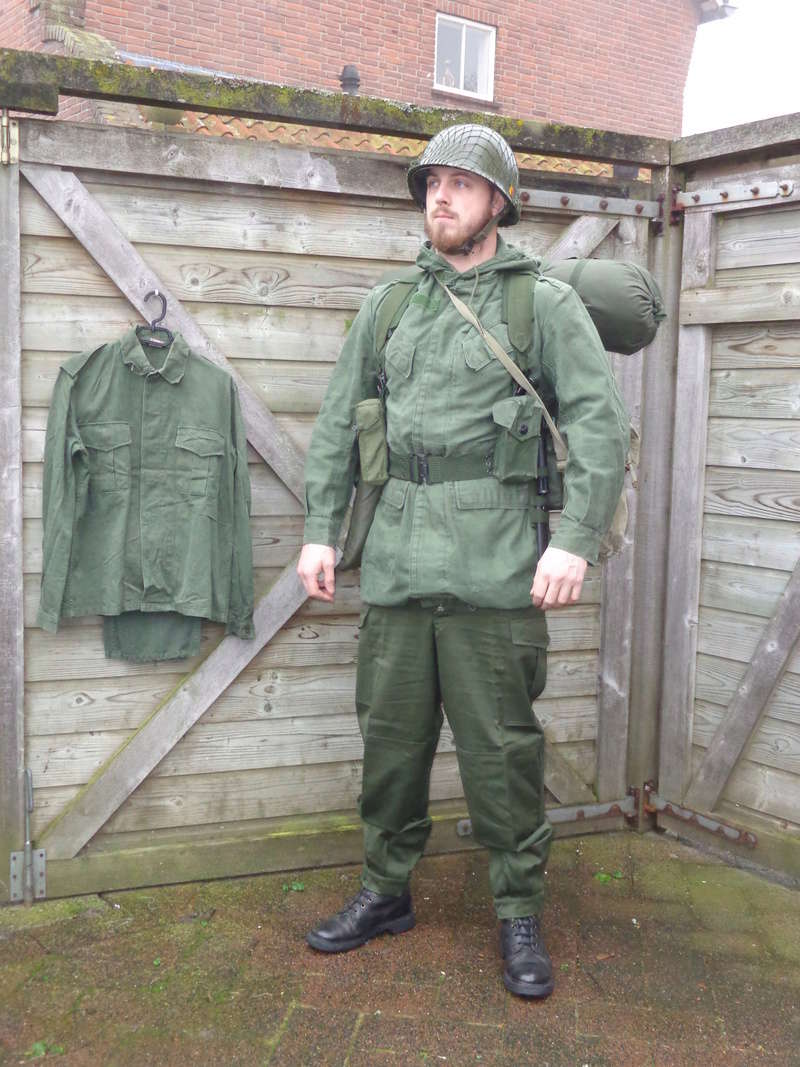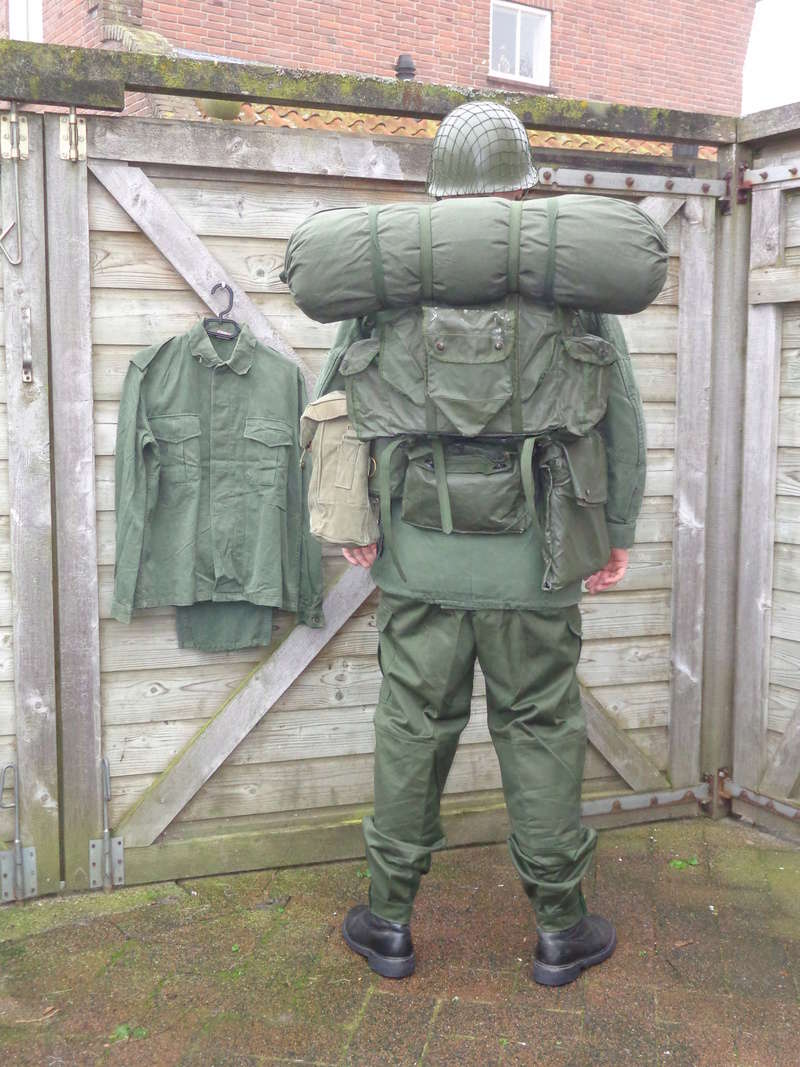 Belgian Airforce Commando, 1990's.
Summer Flecktarn uniform
Dark blue beret with unit badge
Flecktarn helmet cover
Flecktarn tactical vest
2 Flecktarn magazine pouches
Canteen in Flecktarn pouch
Flecktarn buttpack
Flecktarn backpack
Flecktarn sleeping bag cover
Laced boots (older type, M??)
Later added: 2 types of Flecktarn cap, Flecktarn parka.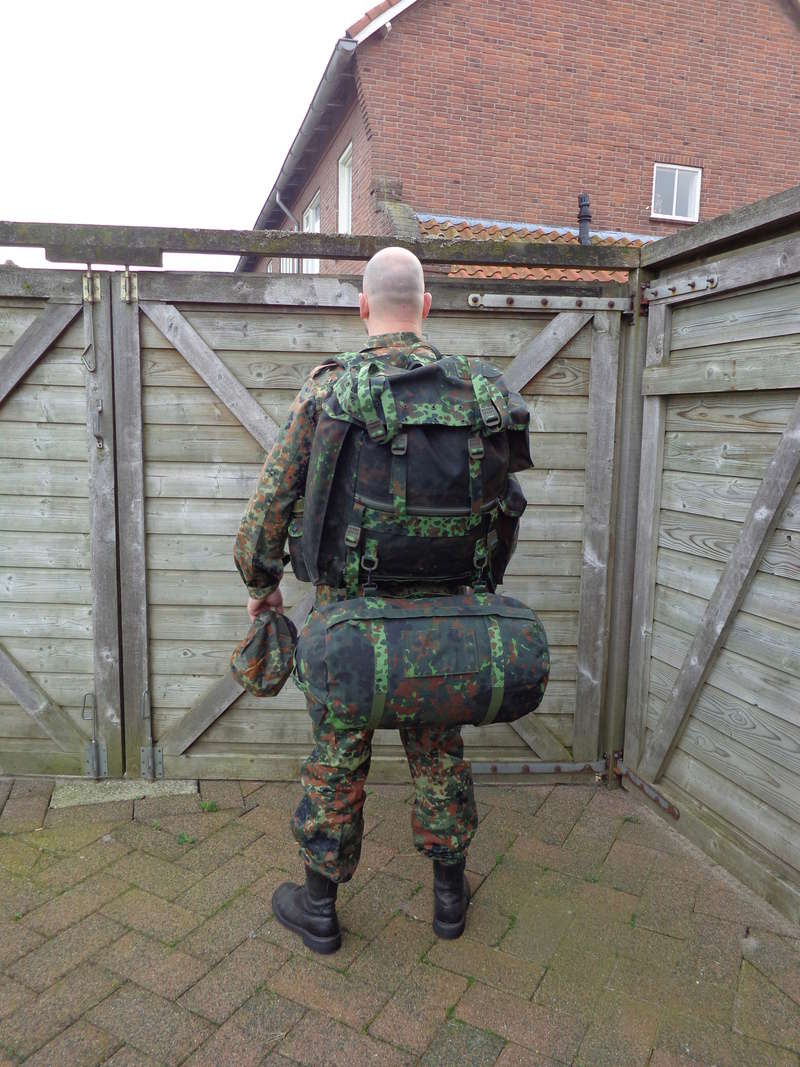 Belgian army, 2000's.
Ripstop Jigsaw camo summer uniform
Jigsaw parka
Schuberth 826 kevlar helmet with Jigsaw cover
Jigsaw body armor
Jigsaw tactical vest
BEM 4 GP gasmask in Jigsaw bag
Jigsaw legholster
Bayonet sheath (Jigsaw frog part)
Laced boots (90's type, M??)
Later added: Ripstop Jigsaw helmet cover, Jigsaw canteen pouch, Jigsaw shovel pouch.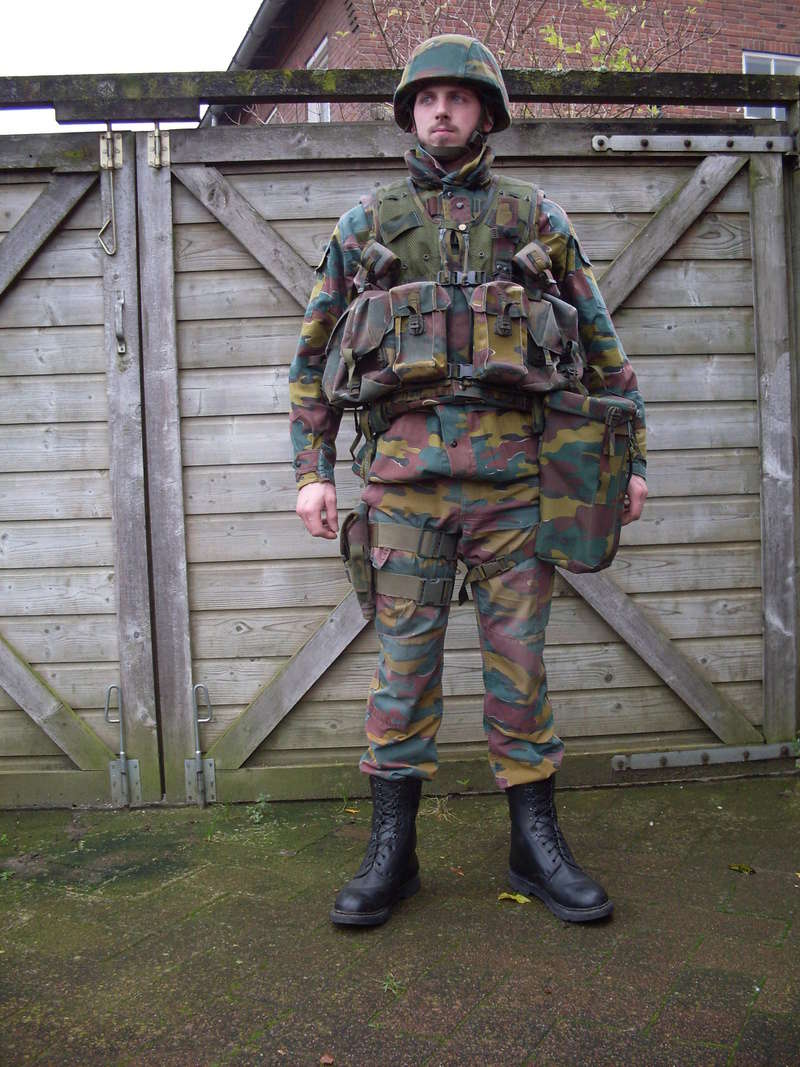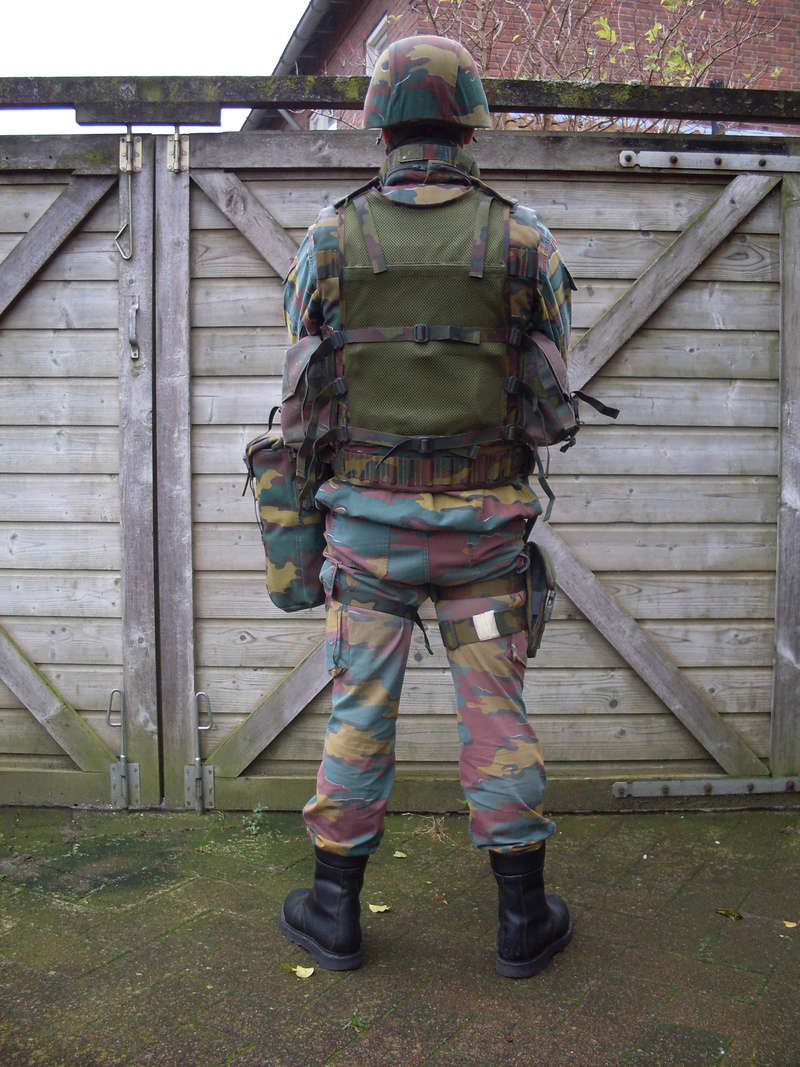 I'm also slowly working on a more modern Afghanistan loadout, will try and get it done after I visit Ciney later this month, where I'll hopefuly buy the last few pieces needed.