A very special thanks to Danilo for parting with some of his amazing, precious collection. I just received these in the mail today, and I couldn't help sharing what I've found on it, especially since the Camopedia article on it is very brief and basically the only English language information available on it.
After several hours translating and reading through posts by Japanese collectors on various sites like Team Folgore, personal camo and collection blog sites (like Ganriki.net), Japanese collecting and airsoft forums, and some Twitter posts, this is all the information on this pattern and uniform I've managed to acquire.

As the JSDF and Japanese collectors name their camouflage and uniforms by type, based on the order they are introduced, the closest to an official name I could find for this pattern is simply "Japanese Air Self Defense Force Desert Camouflage Uniform, Type 1.
Other names include "JASDF first desert pattern" as their second desert pattern is regarded to be their 3 color desert copy, and "JASDF 2nd Pattern", as it was the second pattern the JASDF introduced, the first being the "Air Force Fang" or officially called the "Aviation Camouflage Uniform."
However, knowing collectors, we love our short, sweet nicknames to make things simpler, so I've taken to nicknaming it "Chocolate Chip Fang", or "Desert Fang", and will be referring to it as those from here on for simplicity sake, and to save my fingers from extra typing.

From these Japanese collectors research, it would appear this pattern was produced for the Japanese Air Self Defense Force beginning around 1991, although the initial design dates are unknown.
With the onset of the Gulf War, Japan was expected by many Western countries, particularly the US, to contribute militarily to the Gulf conflict.

[The following mostly taken from the article "The Gulf War and Japanese Diplomacy" on Nippon.com, which I recommend reading if you're interested in learning more about Japan's involvement in the Gulf War. Slightly biased in some parts but still plenty self-critical.]

At the time, Japan was under heavy criticism and suspicion by the US, as there were many accusations to the Japanese being untrustworthy, economically predatory (especially on other Asian nations), and self concerned, especially after the US learned the Japanese had broken the "COCOM" embargo in the 80's by Toshiba selling machining equipment to the Soviet Union, and making aggressive and sometimes disrespectful international economic moves.
This is a whole other can of worms and is more of a historical politics lesson, so to stay on topic basically Japan was expected to contribute militarily during Desert Storm/Shield to "clear their names" and establish themselves as trustworthy military allies.
Long story short, they disappointed, as prior to this the JSDF had never deployed any units on a combat mission outside the country and had neither the skill, resources, or experience in doing so, and ended up only contributing I believe a single minesweeper unit to the Gulf after the conflict had subsided along with a monetary donation, initially of about $10 million but after anger of learning how "little" they were contributing, was increased to $13 billion.
Ending this political lesson, Japan was politically and nationally impacted by this failure of commitment, as it sometimes referred to in Japan as their "Gulf War Shock" or "Trauma".
Following this the JSDF began increasing their international efforts, I believe beginning with a mission to Cambodia in 1992.

ANYWAY, as for this pattern, it was produced in anticipation for a military operation to be conducted by the JASDF. Along with Westerners, there were Japanese citizens being held hostage in Baghdad prior to the conflict.
Negotiations were held, but this pattern/uniform was produced for the JASDF rescue teams that were planned to be flown into Iraq to rescue the Japanese nationals held there.
Purely speculation, but one could argue it might also have been intentionally designed to resemble the US chocolate chip pattern to show their support and ties to the US.

It never happened, however. Whether by successful negotiations or more commonly believed to be a last-ditch effort by the Iraqis just prior to the conflict to improve their image, the Iraqis released the Japanese citizens and the rescue operation was cancelled. The pattern was then used for an unknown period until at least the late 90's as a training uniform for members of the "executive candidate" schools and training centers.
As for Camopedia's claims that it was created for and used by JASDF Ground Defense and Airbase Security personnel, I've found nothing that corroborates that claim, so if anyone has any more info regarding that please don't be shy about sharing it. There was no concrete info of dates for its introduction or disposal, only that it was used in that manner sometime throughout the 90's.
Unused fabric and unissued uniforms could be found in Japanese PX's and magazines at that time, which is where most of this stuff in collectors hands ended up.

As for the uniform and pattern itself:
The coat, which I do not have, appears to be the exact same cut as the Aviation Combat Uniform (Air Force Fang); with four covered button pockets, an exposed button-up front, and button epaulets and cuffs.
These trousers, however, are unlikely anything the JSDF has ever produced or issued and are quite unique.
As for issue items, I've seen quite a few items made from the spare material like those found on Team Folgore, who specialize in making custom equipment and uniforms.
The only items I know were issued in this pattern are the coat, trousers, and a helmet cover.
Here are some examples from others' collections: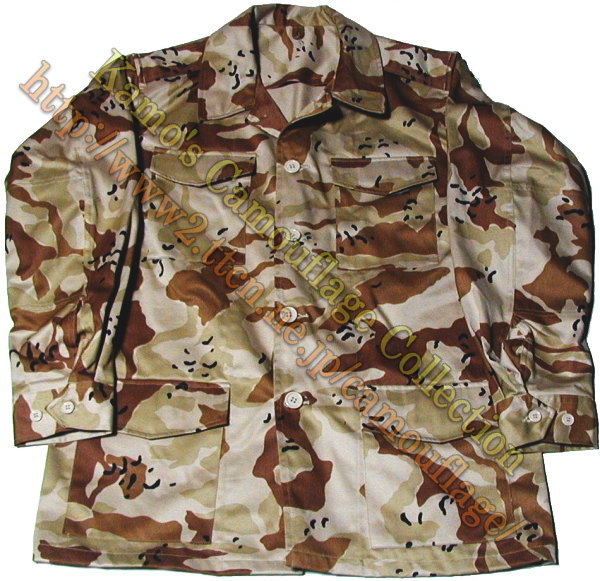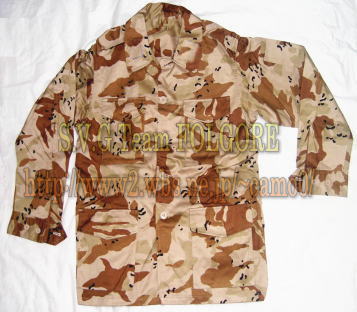 The trousers have quite a unique cut, as far as JSDF uniforms go.
It has two outer, square patch hand pockets like those found on the OG utility trousers, and a single (field dressing?) pocket with no closure on the right hand pocket, both unusual for Japanese uniforms.
The leg cargo and rear pockets have uniquely trimmed flaps, and close with single, exposed buttons.
It has no knee or seat reinforcements, common with desert uniforms.
The fly is zip closed and the waist button is metal with a star and wreath design, both unusual for JSDF combat uniforms until the Type 3 Jieitai trousers sometime in the late 00's.
The belt loops are also odd, the front two are the typical extra wide versions as seen on most JSDF combat trousers, however the rear three are more normal, thinner types.
They are completely sterile with no tags, stamps, markings, or even tailor chalk from what I can tell.
They seem to be an unissued pair and have continued to be well preserved to this day, and display no signs of wear or fading.

As for the camo, as one Japanese collector discovered and I can also confirm, the pattern itself is simply a recolored Fang, with the addition of the black chocolate "chips".
For the colors:
The namesake reddish-brown "Fang" shapes have been changed to light brown.
Black was changed to dark brown.
The light green background/base color was changed to tan.
And the dark, forest green was changed to a light, dry, desert-ish green.
Black "chips" were added, but there is no white in the pattern, making it a 5-color chocolate chip pattern.
The scale is exactly the same, implying they used the same rollers for Fang, Air Force Fang, and Desert Fang. Possible even the 3-color "Coffee Stain Fang", but I have none of that to examine.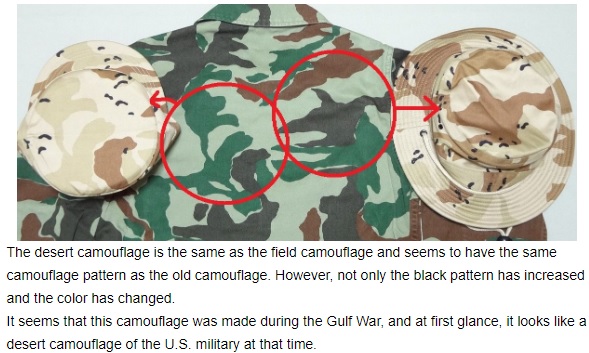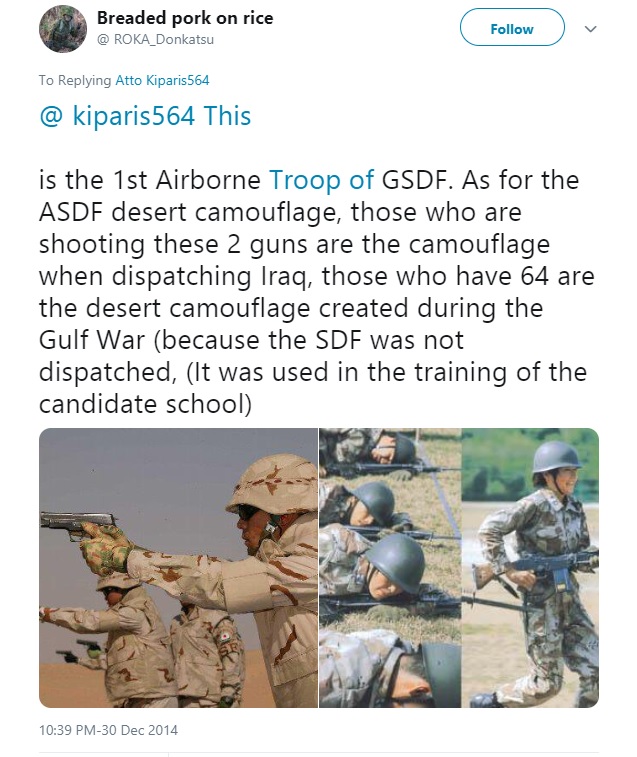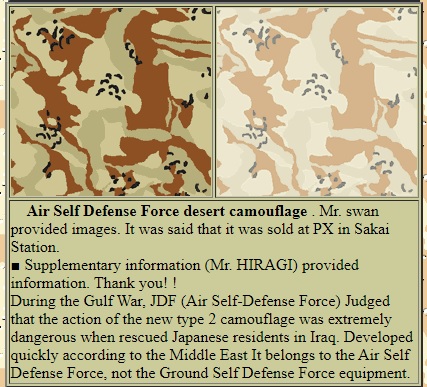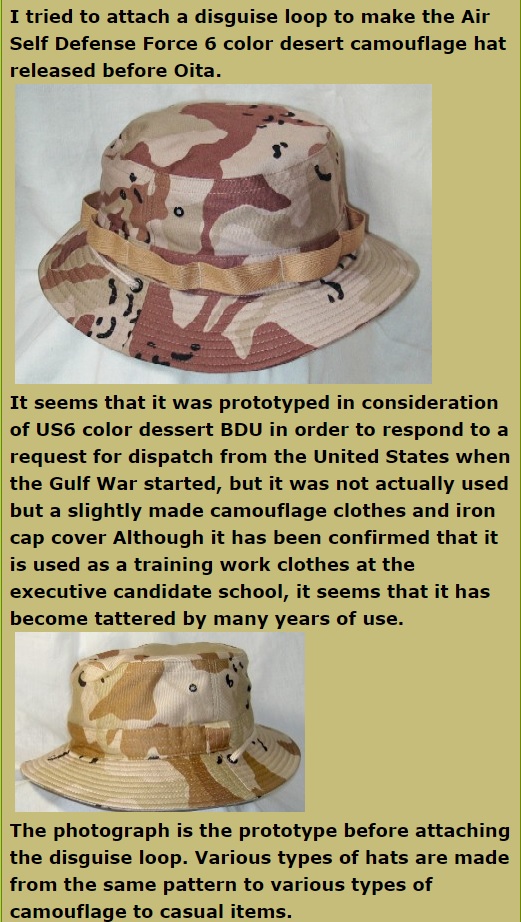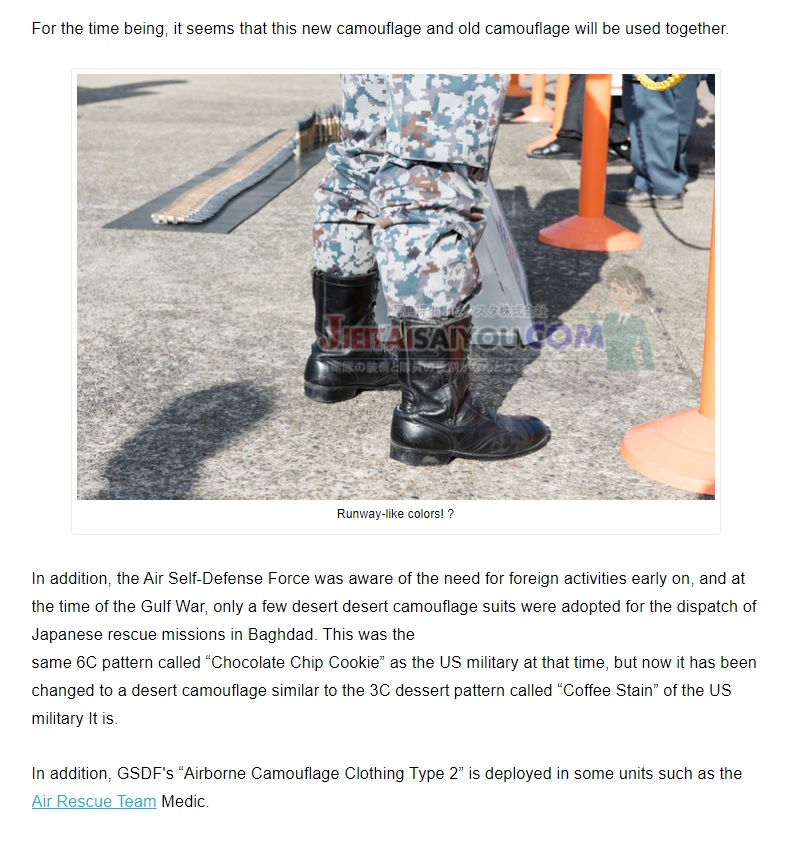 Credit once again to the various Japanese collectors for their research and info, as well as sharing their own examples as well as some rare, additional period photographs of the pattern in use by JASDF school candidate trainees.
Reference photos below, enjoy!
-Nate
Air Self-Defense Forces executive candidates who receive land battle training in desert camouflage clothing (GSDF Nagaike Exercise Area unknown)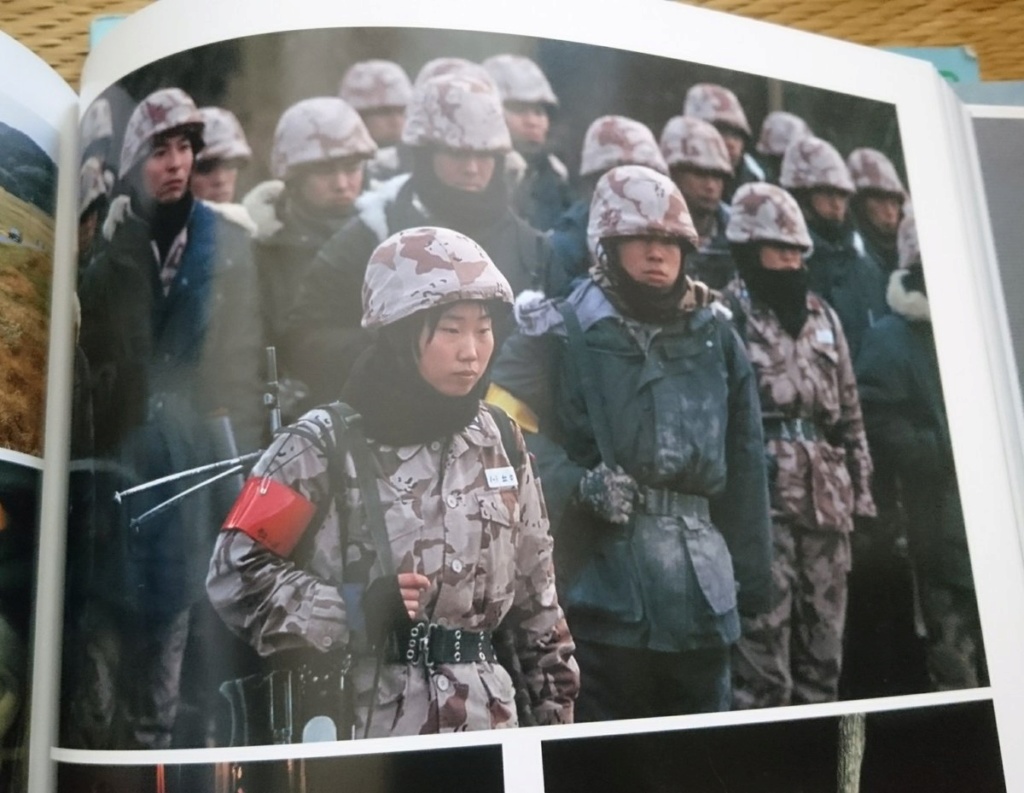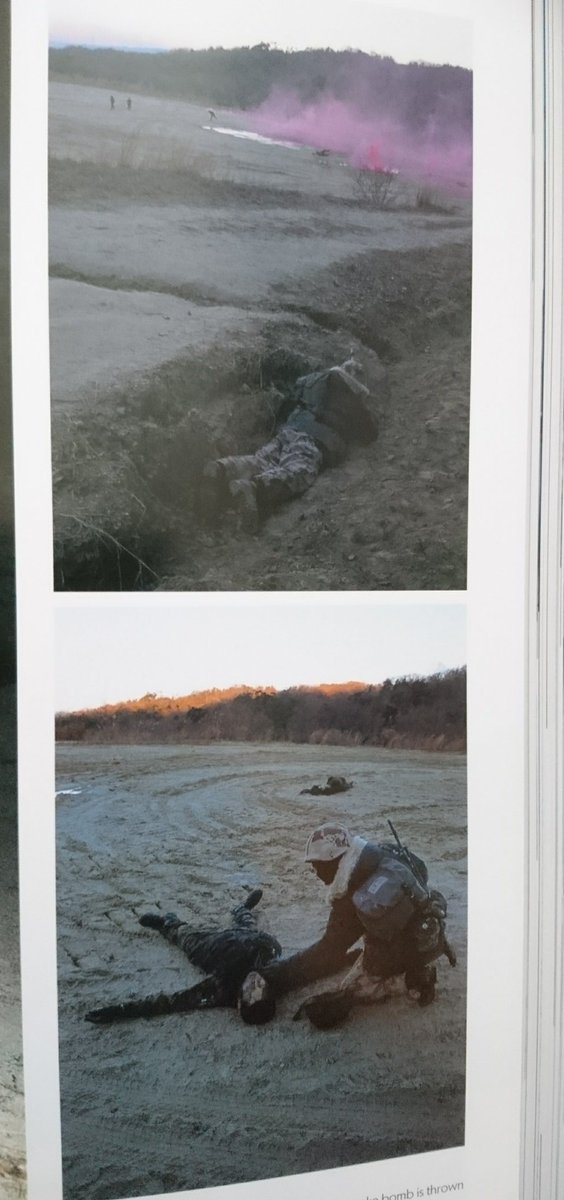 It was eventually sold at PXs.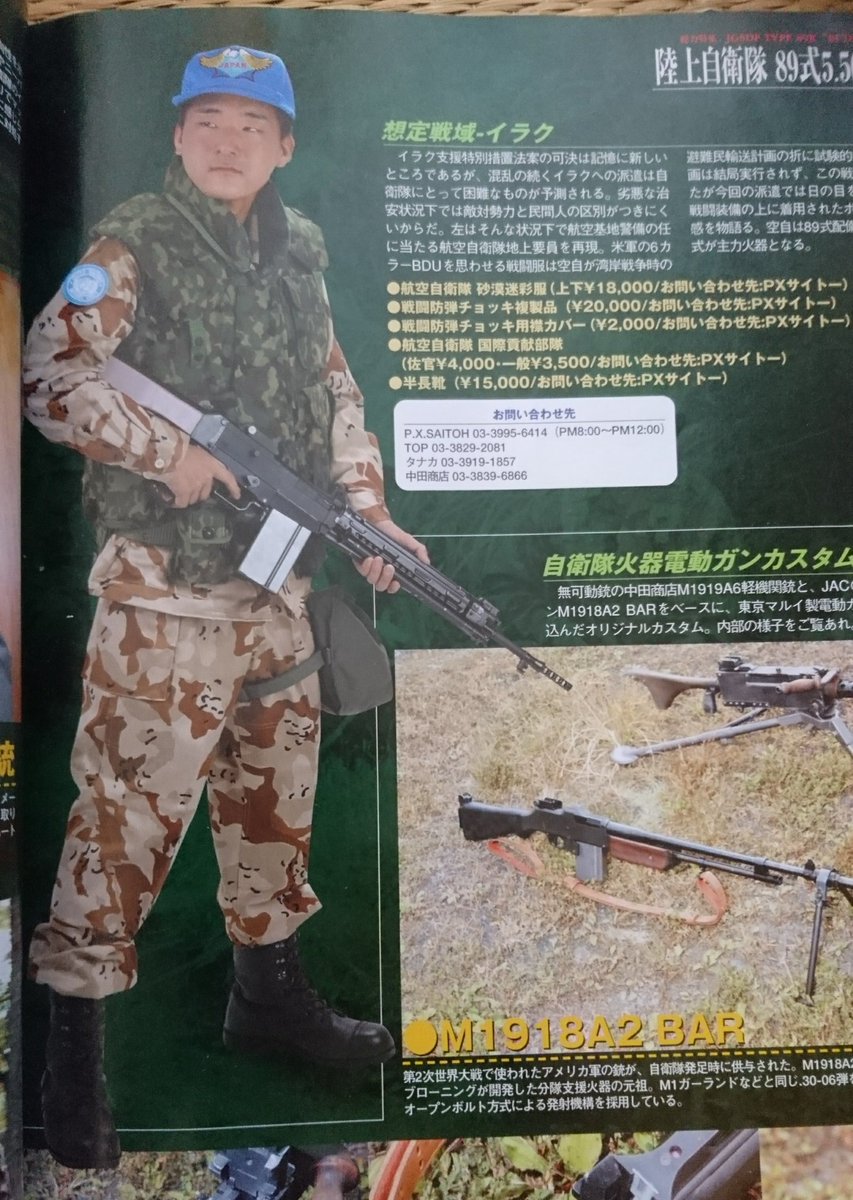 November issue of the Defense Agency's publicity magazine, ''Securitarian'',  members of the JASDF wear desert camouflage clothing and conduct battle training.