Yesterday I cleared some more stock out of 2 shops here in Holland, some quite rare stuff turns up here. Some of it again from KM stocks,
others just in large surplus loads the shops bought.
First up No1 Mk3 NBC smock and pants, p58 2nd type water bottle pouch, p58 4th pattern magazine pouches, p68 (?) "crap hat", a bungee,
nylon SLR sling, Snow gaiters Mk2.
I've read that the NBC suit had to be packed into the poncho roll, but it doesn't fit at all, did they first unpack them from the sealed bags?
Any idea what year the 4th type pouches came into use?
"Chinese fighting suit" cold weather liners, were these meant to be worn under just any suit, or were they specific to a certain type? I also have
a sleeveless version for the combat smock, so I'd like to find out where this one should go in.
CT4B contract (so between 79-85) Windproof Arctic smock and (unreadable contract) trousers. Early version with rank loops on both sides.
If anyone has a descriptive list of versions of the Windproof and Windproof Arctic suits and what year they should be, I'd appreciate a share, so
that I can more accurately date the trousers and some others I have.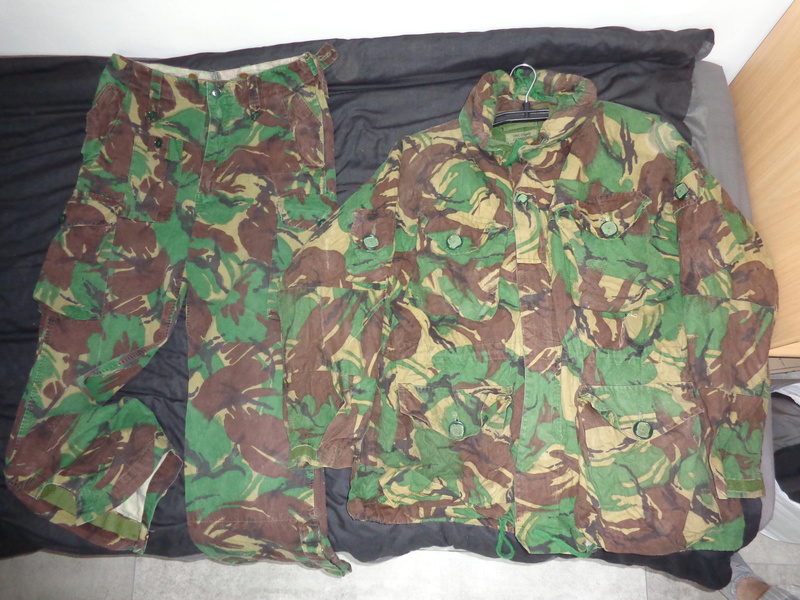 Pattern ?? lightweight trousers, and pattern 84 (?) Para Smock badged to 2nd Para.
There were LtWt trousers there with and without the cargo pockets but of the same CT4B contract, any idea what that's about?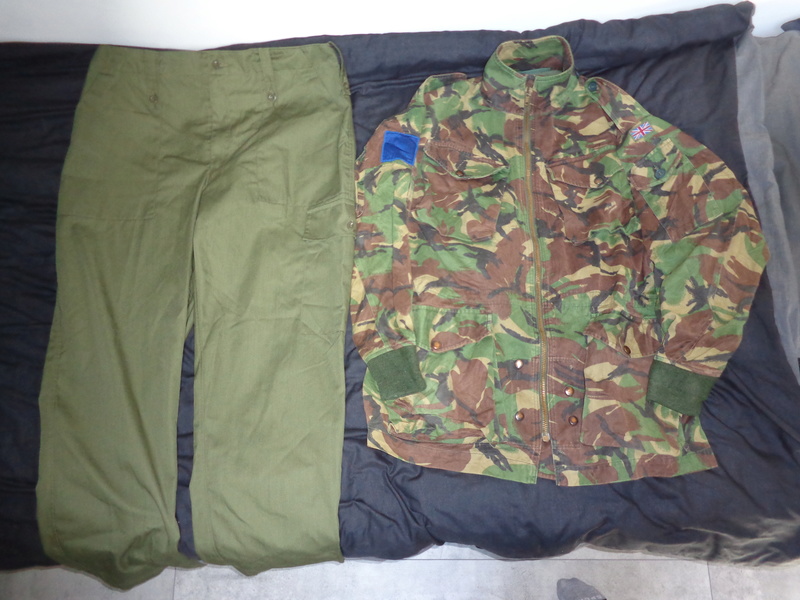 Pattern 72 (?) Tropical shirt and HM Supplies made Windproof Smock.
Is the 72 year correct, or was it part of the p68 issue?
And any idea when abouts HM Supplies made these smocks, and if this is official or commercially bought?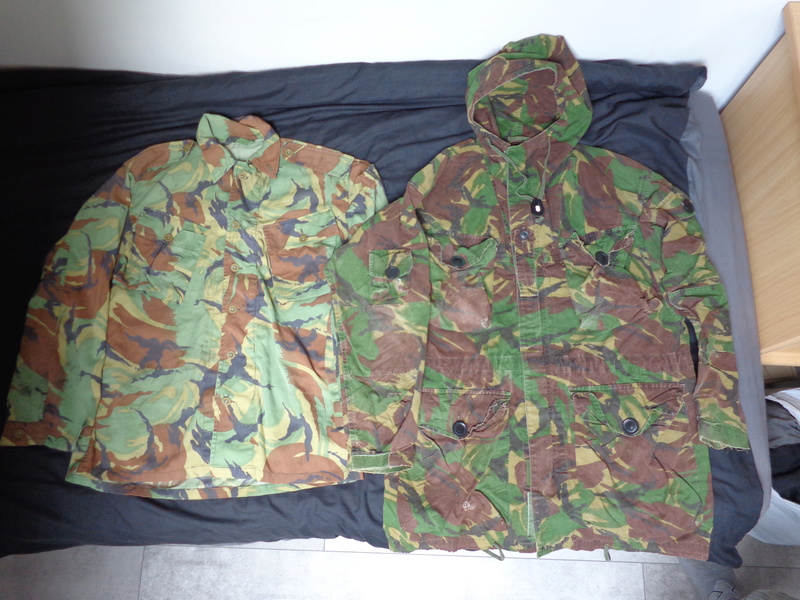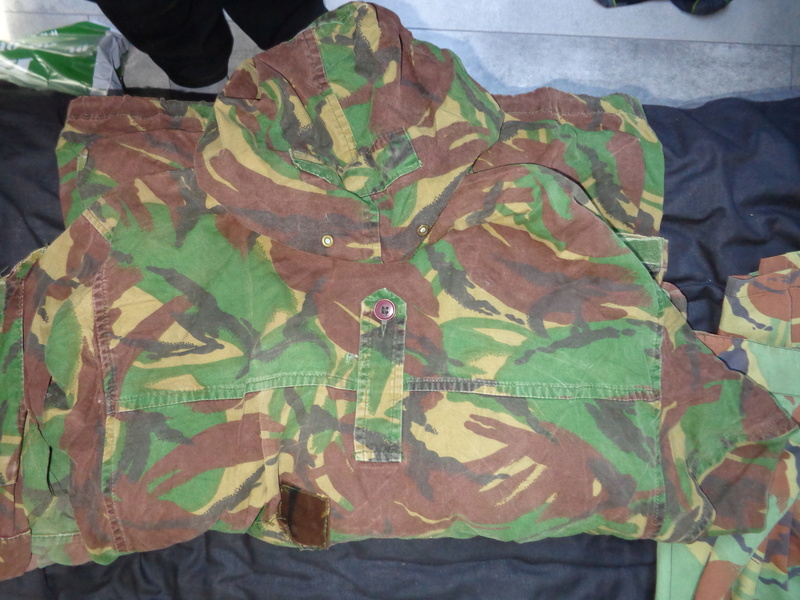 MTP Mk7 2nd type helmet cover, DDPM Mk6 helmet cover (1st Gulf War era), early S6 gasmask bag modified to go on a belt,
reversible rank armlet (looks to be p68 DPM), unit patched boonie hat from the 80's, tagless shortbrimmed boonie hat, p68
boonie hat (A/78 contract). The rest is Dutch stuff, though I'm unsure of the lower goggles.
Any idea on the unit of the top boonie?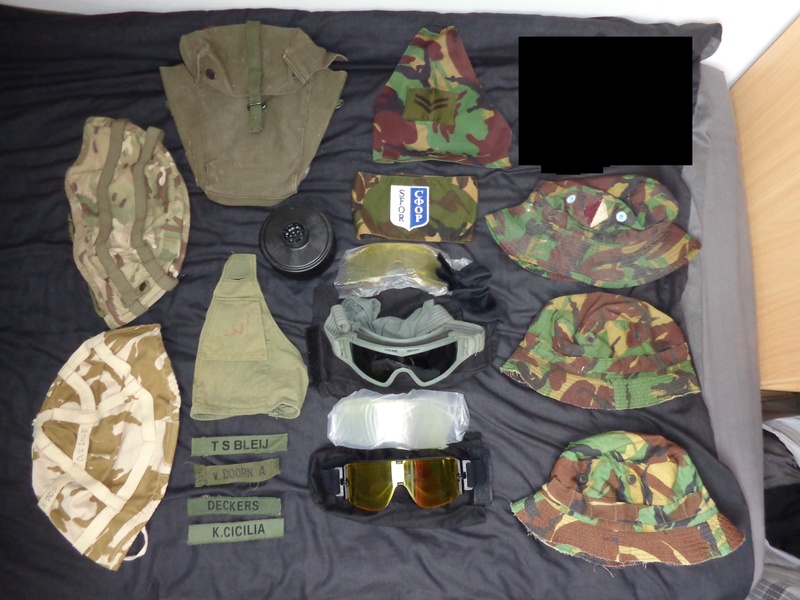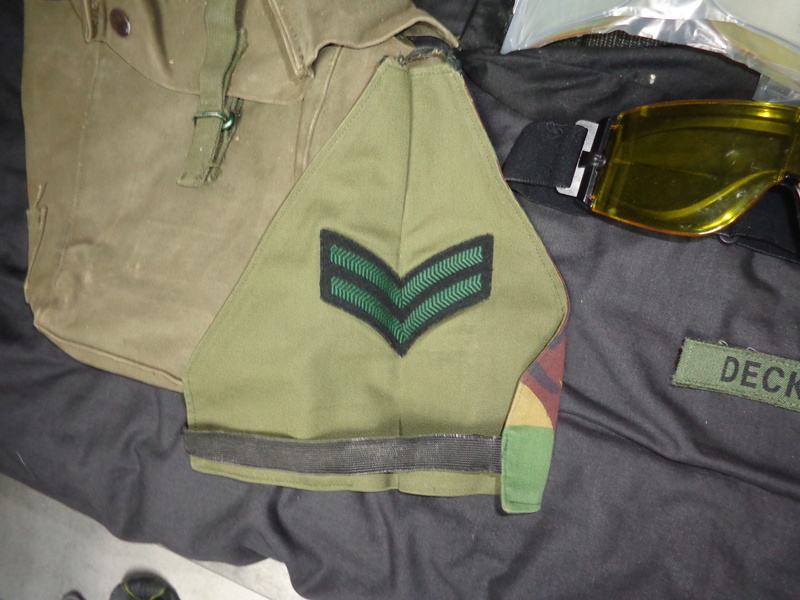 Smooth paint Mk6 helmet with a twist, look at the liner. I've seen just 1 other like it, with the mesh crown suspension, and an
extra lump portruding of the liner at the front. This one also has velcro inside the rear of the shell to attach a nape protector.
My theory is that these could have been meant specifically for use with a visor, either EOD or riot type, and that the different liner
was for the added weight of the visor and nape protector.
If anyone has more info on these, please share.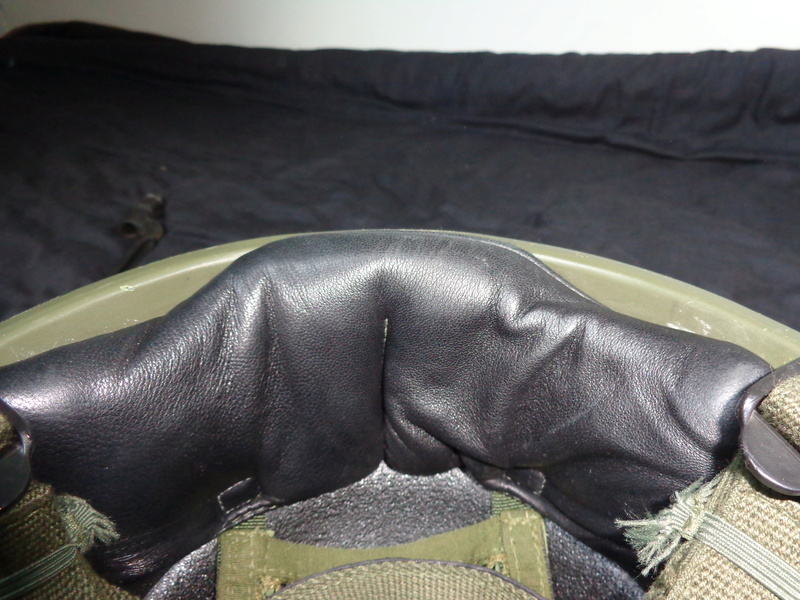 P68 cold weather parka, modified with a large waterproof pocket on the inside, and possibly extra inner cuffs, though those might be normal (?).
No I just have to find the right type and size liner...