This reversible camo was a trial uniform not issued on a wide scale. This was the first ever camouflage uniform only used by PLA SF during the Sino-Vietnam Border War in 1979.
Reversible - side A "leaf pattern", side B "spot pattern". Side A: tan background, leaf pattern with 3 greens with darker color where they overlap. Side B: tan background, spots in two colors of green and brown.
THE IMPRESSION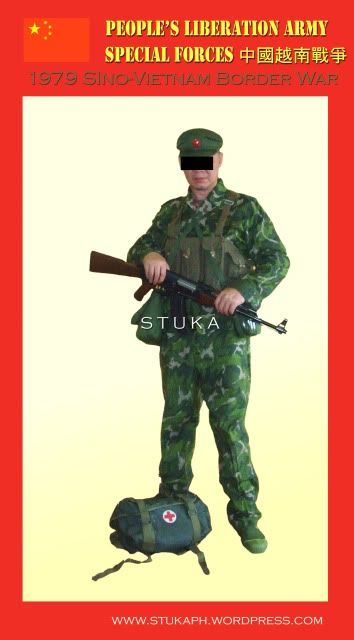 he Sino–Vietnamese War (Vietnamese: Chiến tranh biên giới Việt-Trung), also known as the Third Indochina War, known in the PRC as 对越自卫反击战 (duì yuè zìwèi fǎnjī zhàn) (Counterattack against Vietnam in Self-Defense) and in Vietnam as Chiến tranh chống bành trướng Trung Hoa (War against Chinese expansionism), was a brief but bloody border war fought in 1979 between the People's Republic of China (PRC) and the Socialist Republic of Vietnam. The PRC launched the offensive in response to Vietnam's invasion and occupation of Cambodia, which ended the reign of the PRC-backed Khmer Rouge.

After a brief incursion into Northern Vietnam, PRC troops withdrew about a month later. Both China and Vietnam claimed victory in the last of the Indochina Wars of the twentieth century; however, since Vietnamese troops remained in Cambodia until 1989 it can be said that the PRC failed to achieve the goal of dissuading Vietnam from involvement in Cambodia.

However, China achieved its strategic objective of reducing the offensive capability of Vietnam along the Sino-Vietnam border by implementing a scorched earth policy. China also achieved another strategic objective of demonstrating to its Cold War foe, the Soviet Union, that they were unable to protect their Vietnamese ally. As many as 1.5 million Chinese troops were stationed along China's borders with the USSR and were prepared for a full-scale war against the USSR.
P.S.
Don't have the right settings for my camera when I did this. But nevertheless, I'm ok with it for now with my amateur and little photoshop skills. :icon_smile:
Hope you guys like it!! :