Here is one of the rarest propoganda booklets from the 1980's. I got this booklet from a gentleman who worked in Southern Nicaragua with the ARDE Contras. They would cross over from Costa Rica into southern Nicaragua to do operations. These booklets were given to or placed with local Nicaraguan citizens. I was told by the former owner that this was written on a 6th grade level so it would be easy for people to understand. Even with my limited Spanish, I can read and understand most of what is written.
This booklet was written (with help from the US Government) by a Nicaraguan defector who was a high ranking officer in the Nicaraguan Ministry of the Interior. He details abuses by the Nicaraguan FSLN leadership. How much of it is real and how much of it is fake remains to be seen. Whatever the case, it is a rare piece of US/Nicaraguan history from the 1980's.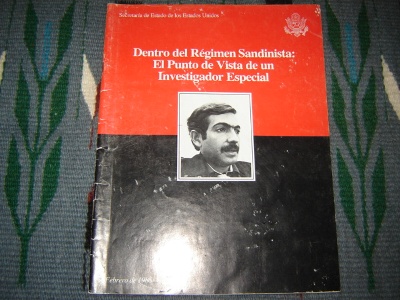 Pic showing who published the booklet.